Nivel cariera
Entry (0-2 ani)
Limbi vorbite
engleză, română
---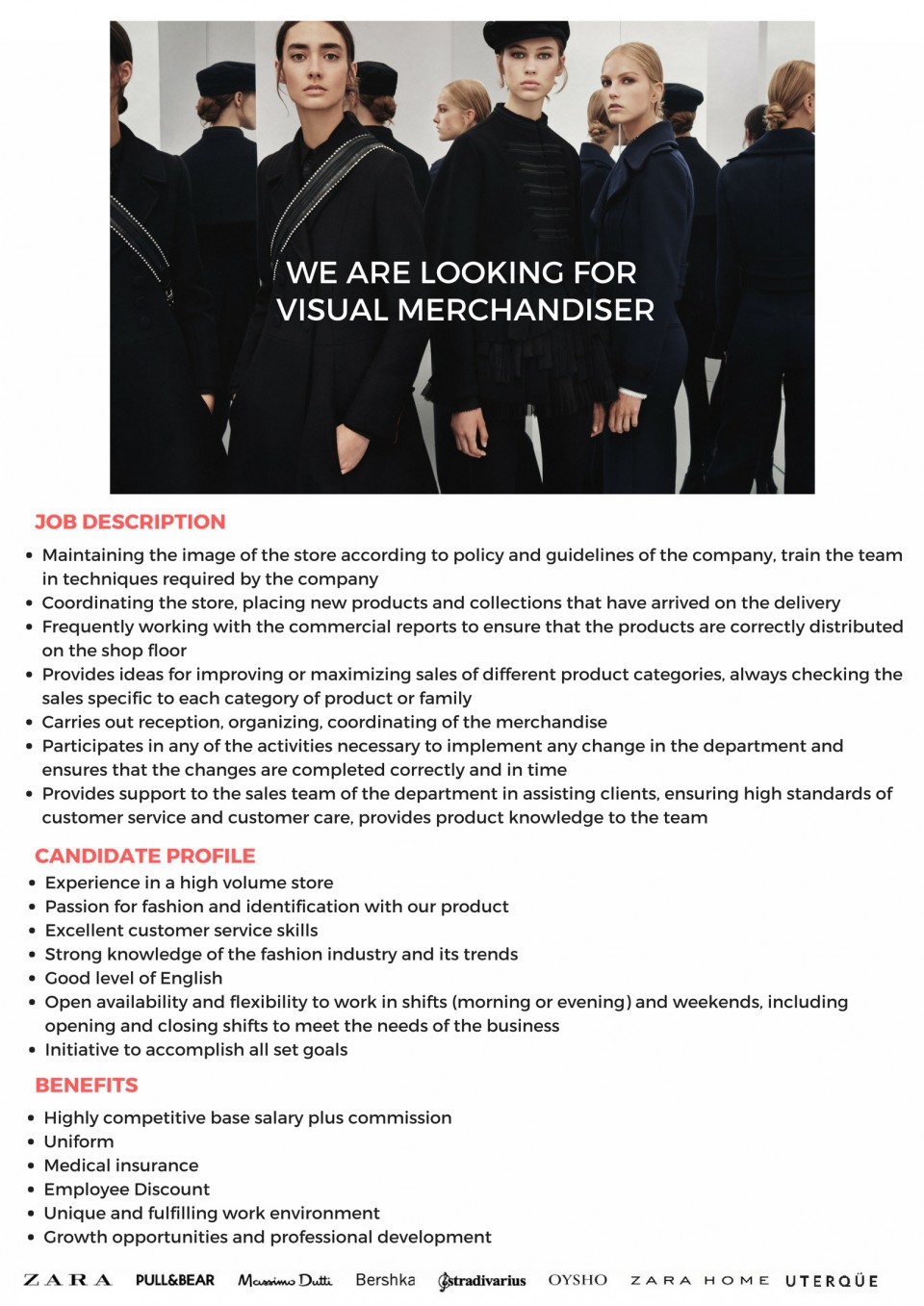 Visual Merchandiser
Inditex is the world's largest fashion retailer with 8 brands andtores around the world.
At Inditex we believe that our greatest assets are the people working in our stores. If you are looking for a career in retail, you like to work close to the people and you are looking for new challenges, Inditex is the place for you!
We want enthusiastic candidates for a dynamic work environment, looking for new challenges, and sharing our passion for fashion!
The job of a Visual Merchandiser requires creativity, imagination and a passion for fashion, being up to date with the latest trends.
Job description
Maintaining the image of the store according to policy and guidelines of the company, train the team in techniques required by the company
Coordinating the store, placing new products and collections that have arrived on the delivery
Frequently working with the commercial reports to ensure that the products are correctly distributed on the shop floor
Provides ideas for improving or maximizing sales of different product categories, always checking the sales specific to each category of product or family
Carries out reception, organizing, coordinating of the merchandise
Participates in any of the activities necessary to implement any change in the department and ensures that the changes are completed correctly and in time
Provides support to the sales team of the department in assisting clients, ensuring high standards of customer service and customer care, provides product knowledge to the team
Candidate profile
Experience in a high volume store
Passion for fashion and identification with our product
Excellent customer service skills
Strong knowledge of the fashion industry and its trends
Good level of English
Open availability and flexibility to work in shifts (morning or evening) and weekends, including opening and closing shifts to meet the needs of the business
Initiative to accomplish all set goals
Benefits:
Highly competitive base salary plus commission
Uniform
Medical insurance
Employee Discount
Unique and fulfilling work environment
Growth opportunities and professional development
---