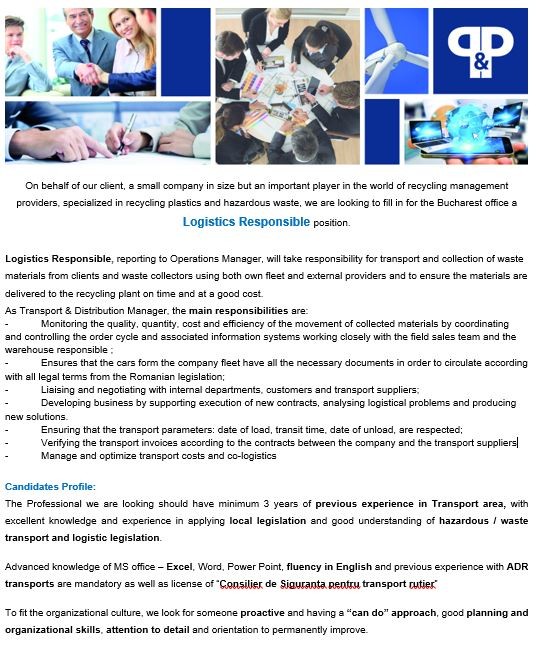 On behalf of our client, a small company in size but an important player in the world of recycling management providers, specialized in recycling plastics and hazardous waste, we are looking to fill in for the Bucharest office a Logistics Responsible position.
Logistics Responsible, reporting to Operations Manager, will take responsibility for transport and collection of waste materials from clients and waste collectors using both own fleet and external providers and to ensure the materials are delivered to the recycling plant on time and at a good cost.
As Transport & Distribution Manager, the main responsibilities are:
- Monitoring the quality, quantity, cost and efficiency of the movement of collected materials by coordinating and controlling the order cycle and associated information systems working closely with the field sales team and the warehouse responsible ;
- Ensures that the cars form the company fleet have all the necessary documents in order to circulate according with all legal terms from the Romanian legislation;
- Liaising and negotiating with internal departments, customers and transport suppliers;
- Developing business by supporting execution of new contracts, analysing logistical problems and producing new solutions.
- Ensuring that the transport parameters: date of load, transit time, date of unload, are respected;
- Verifying the transport invoices according to the contracts between the company and the transport suppliers
- Manage and optimize transport costs and co-logistics
Candidates Profile:
The Professional we are looking should have minimum 3 years of previous experience in Transport area, with excellent knowledge and experience in applying local legislation and good understanding of hazardous / waste transport and logistic legislation.
Advanced knowledge of MS office – Excel, Word, Power Point, fluency in English and previous experience with ADR transports are mandatory as well as license of "Consilier de Siguranta pentru transport rutier"
To fit the organizational culture, we look for someone proactive and having a "can do" approach, good planning and organizational skills, attention to detail and orientation to permanently improve.