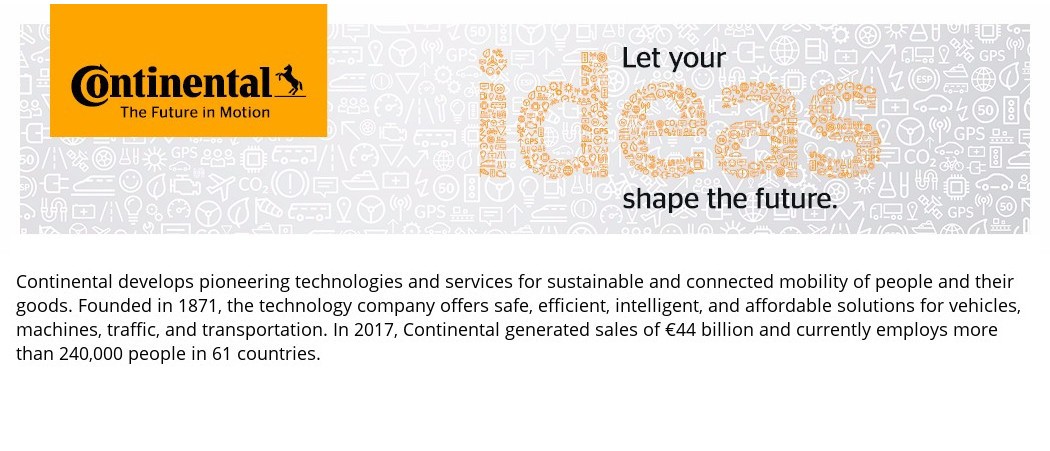 Test Engineer for C&S (Iasi)

With sales of €44 billion in, Continental is among the leading automotive suppliers worldwide and currently employs more than 240k employees in 61 countries. The Chassis & Safety division develops and produces integrated active and passive driving safety technologies as well as products that support vehicle dynamics. The product portfolio ranges from electronic and hydraulic brake and chassis control systems to sensors, advanced driver assistance systems, airbag electronics and sensorics as well as electronic air suspension systems all the way to windscreen washer systems and headlight cleaning nozzles. The focus lies on a high level of system competence and the networking of individual components. Thus products and system functions are developed along the SensePlanAct chain of effects. They form the foundation for automated driving. Chassis & Safety employs more than 47. 7k people worldwide and generated sales of approxi mately €9. 8 billion in 2017.
As a Test Engineer in C&S your responsibilities will be to:
• Develop test specifications for complex functions verifications based on system and software requirements;
• Test and validate the software on the ECU using SW and HW tools ;
• Develop automated solutions for test environments, test specification and evaluation;
• Perform test investigations and evaluate the results of the measurements;
• Document the test results and provide reports to project management;
• Cooperate with an international development team and customers;
• Follow company standards and development processes. A mentor will support you to gradually take over own responsibility after an initial training phase which will familiarize you with our products, tools, processes and organization.
Requirements:
• University degree in a relevant field (Automation and Computer science, Electronics, Electrical Engineering, Mechatronics, Mathematics and Informatics, Physics or other similar areas);
• Basic programming knowledge;
• Knowledge of electronics, microcontrollers – general overview;
• Basic usage of measurement and control equipment;
• Good analytical reasoning, problem solving skills and ability to understand complex systems;
• Nice to have knowledge or experience in embedded systems, testing methods, automotive systems, scripting languages, LabVIEW, Matlab; • Medium level English skills.
What we offer:
• Integration Program in a Professional, Young & Dynamic Team ;
• Competitive Salaries & Benefits ;
• Professional Development Opportunities;
• Health & Wellness ;
• Stability;
• International Work Environment & Traveling Opportunities;
• Relocation Package for non-Iasi Residents;
Ready to drive with Continental? Take the first step and fill in the online application.