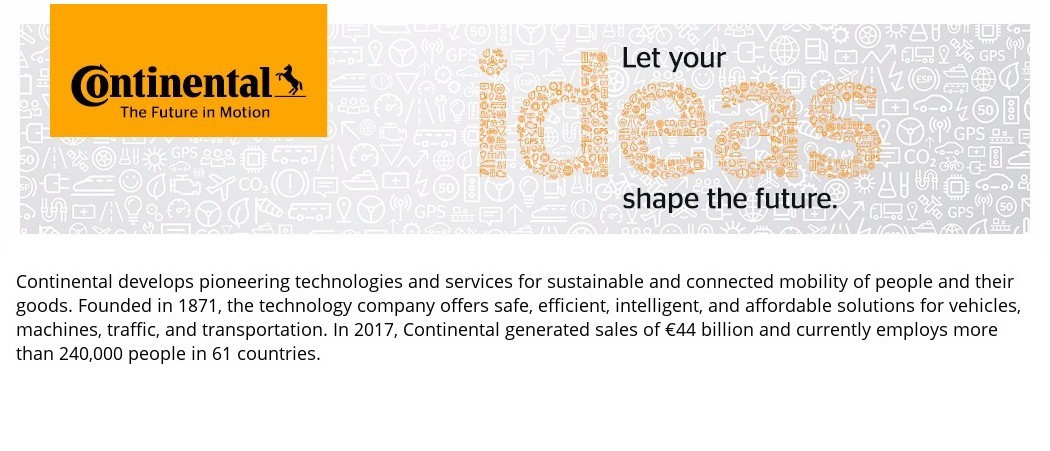 The Chassis & Safety division develops, produces and markets intelligent systems to improve driving safety and vehicle dynamics. The direction for the division is clear: The future of mobility leads to automated driving. Integrated active and passive safety technologies and products that support vehicle dynamics provide greater safety, comfort and convenience. They create an excellent foundation for working together to achieve the goal of accident-free driving (Vision Zero).
Within Chassis & Safety Division your coordination and engineering skills can make a difference in the development of exciting new automotive products and technologies.
Do you like bossing around? Do you enjoy long hours? Are you a Semi-God of electronics? If all those questions ticked "YES", than look no further. Join our team! We are looking for a charismatic and energetic person, who is willing to join a great management team, in the pursuit of building the future of automotive together. It is necessary that you find excitement and satisfaction in other people's accomplishments. Your role will be to manage/ coordinate a team of about 10 hardware engineers who deliver high quality solutions for our customers.
Job Description
As a Team Leader for the Hardware Testing Team your tasks will include:
• Disciplinary and technical leadership of an experienced team responsible for the safeguarding of a brake platform for present and future cars
• Establishment, management and further development of a qualified team in coordination with the department management.
• Assuming responsibility for compliance with partial project budgets
• Management of necessary technical escalations in the project environment.
• Contributing to the internal communication regarding the presentation of technical results
• Approvals for activities within the team leader function.
• Have fun
• Plan, organize, lead and control the work of the people in your team, in order to ensure they deliver high quality software solutions.
• Allocate incoming work, existing resources and sets up priorities in order to meet upcoming / ongoing tasks and have balanced workload;
• Support team members in their assignments; • Manage hiring, coaching, career planning and salary recommendations of your team members
• Organize appropriate training of employees in order to continuously improve their level of technical know-how;
• Perform periodical evaluation for team members
• Be the main contact person between internal customers and team members;
• Collaborate with other Continental teams to ensure synchronization across multiple teams, contributing to the final Continental deliverables; international collaboration is required;
Job Requirements
• University degree in electronical engineering or comparable qualification.
• Professional experience in people management.
• Several years of professional experience in the field of hardware engineering.
• Very good English language skills (written and spoken).
• Good analytical reasoning, problem solving skills and ability to understand complex systems.
• Nice to have knowledge or experience in: automotive systems, embedded systems, test methods, test management
• Good communication and presentation skills
• Good planning and organizing abilities;
• Passion for working in an international team with many different customers
• Initiative, dedication, attention to detail
• Ability to take decisions based on limited amount of information
• A healthy dose of sense of humour
What we offer
• Competitive Salaries & Benefits ;
• Work with the state-of-the-art equipment and technology;
• International Work Environment & Traveling Opportunities;
• Professional Development Opportunities;
• Health & Wellness ;
• Stability;
• Relocation Package for non-Iasi Residents;
Ready to drive with Continental? Take the first step and fill in the online application.