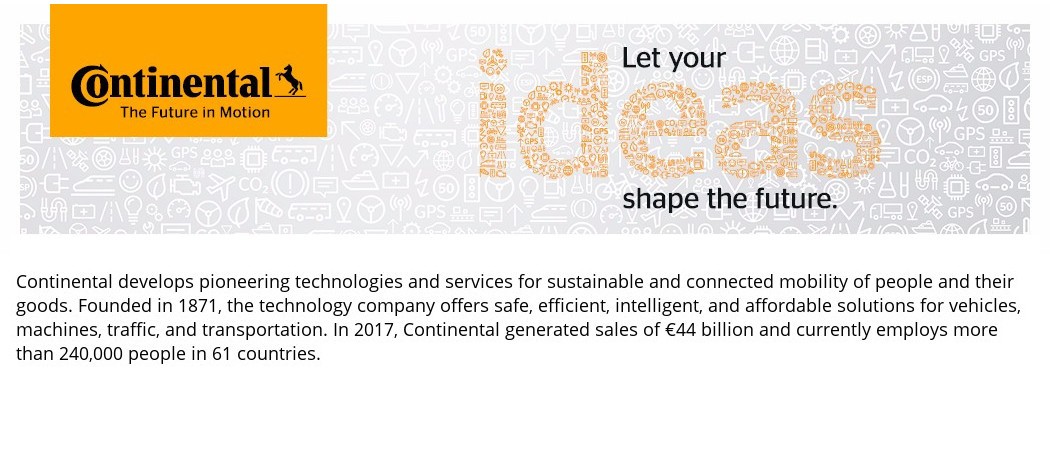 System Test Engineer for IIC (Iasi)
Job Description
What is your plan to achieve the connected car experience?
Infotainment & Connectivity intuitively responds to the human-machine dialogue with focused and clear information to strengthen the driver's trust in the vehicle's individual functions. Smartly designed to integrate the big flow of data from the environment, the driver receives those reliable information that ensures he will have the constant control of the situation. Just imagine what an advantage is to have better signal quality, to know the road conditions ahead of time or have alternative routes based on the input received from the car.
As a system tester in our team, you are expected to contribute in one of the following projects:
- The Intelligent Antenna Module represents the central access point to receive and share information with other cars, smartphones, cellular networks, satellite navigation or radio broadcasts.
- Multimedia systems turn the car into a real digital companion by combining multiple types of communication medium at the same time.
You will have the opportunity to:
- Bring your own ideas and contribution to the development of future products that will serve better connectivity, accurate information to the driver and safer cruising;
- Work Agile within an environment prone to learning;
- Actively contribute in setting up and maintaining the test environment (. SW tools, test automation, test benches);
- Clarify specifications within technical meetings where customer is invited;
- Offer support in the creation and maintenance of the test plan;
- Define and maintain test cases, but also design and implement automated test cases;
- Verify the product in a real car by performing test drives or in a simulated environment;
- Perform fault analysis, reproduction and reporting;
- Train to master new technologies and obtain professional certifications.
An assigned mentor will help you gradually integrate into the team and within project tasks.
There will be an initial training that will make you familiar you with our products, tools, processes and organization.
Job Requirements
Qualifications:
- Knowledge of testing strategies, tools and methodologies
- Knowledge and experience of standard scripting languages (.: Python, Batch)
- Knowledge of multiple operating systems (.: Linux)
- Logical and structural thinking
- Good communication skills and team orientated approach
- Good English skill in speaking, writing and listening
Ideal knowledge:
- Embedded Systems knowledge
- Knowledge of automotive protocols (. CAN, LIN) and Ethernet communication
- Knowledge of a system-based visual programming language (. NI LabView)
- Minimum knowledge of C# programming language
If the above descriptions suits you, we will certainly like to meet you!
What we offer:
- Competitive Salaries (based on performance) & Benefits;
- Health & Wellness (Life Assurance, Private Health and Dental Insurance, Sport activities);
- Integration Program in a professional, young & dynamic team;
- A mentor for the integration period
- Professional Development Opportunities (in Technical and Managerial Area);
- Stability;
- International Work Environment & Traveling Opportunities;
- Relocation Package for non-Iasi Residents.
The Recruitment process consists in technical & HR discussions in order to assess how we will work together and your fit to one of our projects. You will receive an answer, no matter our feedback. Great to be meeting you!
Ready to drive with Continental? Take the first step and fill in the online application.