Systems Engineer for C&S (Iasi)
Nivel cariera
Middle (2-5 ani)
---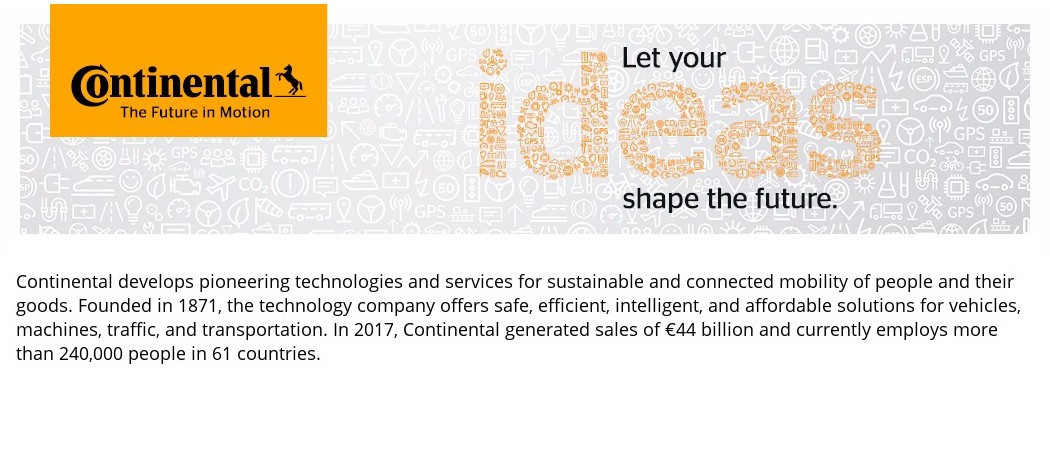 Systems Engineer for C&S (Iasi)
Job Description
Did you always dreamed of having the power to change the world? Have you ever imagined yourself in the future, looking at a large-scale break-through technology and being able to say: "I am part of this"? Within Chassis & Safety Division your passion for engineering can make a difference in the development of exciting new automotive products and technologies. You can play an active role in shaping the future and writing the very first history pages of autonomous mobility era, in which cars get fully electrified and

Join us and bring your contribution to one of the following key areas Continental engineers are currently dealing with:

• Advanced Driver Assistance Systems developing products meant to equip the future autonomous car, like sensors and computation platforms for running safety maneuvering and cruising functionalities.

• Systems and Technology with products that are foreseen and integrated into highly automated vehicle driving functionalities

• Vehicle Dynamics developing highly advanced by wire braking technologies, essential products for future fully electrified car.

• Steering Segment, where modern Electric Power Steering systems are developed, making the driving experience safer, more comfortable and at the same time ecological, by reducing the fuel consumption and CO2 emissions.

• Passive Safety and Sensorics – developing a state of the art active body roll stabilization system that reduces the body roll of the vehicle and enhances the lateral vehicle stability when cornering


As a System Engineer you will have thrilling opportunities, including the chance:

• To boost your professional career in the automotive industry among us.
• To improve your knowledge by learning from people with extensive experience in automotive.
• To help us develop products which are both innovative and safe.
• To join our worldwide community of key experts in the
• To interact directly with the most known car manufacturers.
• To work in one of the following directions: Function or Software Development, System Safety Engineering, Requirements Engineering.


As a System Engineer in our group your responsibilities can be:

• Bring your own ideas and contribution to the development of innovative products;
• Development of functional concepts, specifications and requirements for automotive embedded systems
• Design and implementation of embedded functions and algorithms as dynamic part of our SW applications of products.
• Develop the system and software architecture of our products.
• Modeling and simulation of embedded software solutions using Matlab/Simulink
• Analyzing and solving functional anomalies
• Ensuring the safety of the embedded system for the release product in accordance with international standards for safety critical systems and automotive legislation
• Cooperate with international and interdisciplinary teams and synchronize with our internal customers.
• Following company standards and development process

A mentor will support you to stepwise take over own responsibility after an initial training phase which will familiarize you with our products, tools, processes and organization.

If you are a student, the starting date is open to discussion based on your needs and the project
Job Requirements
• Bachelor degree in an engineering field of relevance
• Knowledge of embedded systems, model based engineering and programming
• Understanding of system control engineering, electronics and physics
• Basic knowledge about MATLAB/Simulink
• Capability to analyze technical problems
• Good writing, reading and speaking English skills
• Familiar with formal structured development process

Do the following personality traits, skills and work style describe you perfectly?
• Analytical skills and a structured manner of work
• Strong drive and an enthusiastic attitude
• Excellent teammate always willing to give a helping hand
• Attention to detail
• Confidence in communication to internal or external customers
• Excellent command of English language
• Willingness to go on business trips abroad
• Moderation and presentation skills
What we offer
• Competitive Salaries (based on performance) & Benefits;
• Health & Wellness (Life Assurance, Private Health and Dental Insurance, Sport activities etc.);
• Integration Program in a professional, young & dynamic team;
• A mentor for the integration period
• Professional Development Opportunities (in Technical and Managerial Area);
• Stability;
• International Work Environment & Traveling Opportunities;
• Relocation Package for non-Iasi Residents.

Let us find out more about you by applying on Continental's career website:
Job Type
Professional
Division Footer Text
Ready to drive with Continental? Take the first step and fill in the online application.

---