At in-tech we test vehicle electronics and develop software for industry and transportation vehicles.
We are different than the others: We are orange! What about you?
in-tech believes in and offers an outstanding work atmosphere, team spirit and a fun place to always give our best performance. That is why we look for colleagues who share this enthusiasm and want to proceed full speed ahead together with us.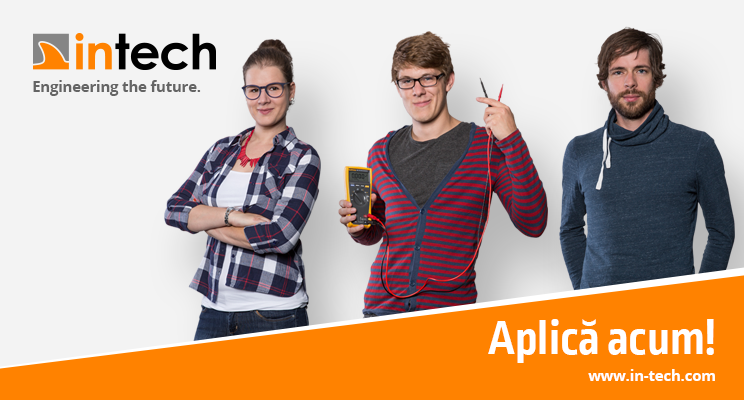 Our team of Software Engineers develops a variety of topics and applications for the world of tomorrow.
For that, we are currently growing our team in Brasov with 6 new team members by the end of this year (mid and senior level).
You will work together with the client on exciting innovative projects. Do you enjoy designing a component through the entire software development process, getting involved, and putting your know-how into practice in exciting projects? Then you are in the right place!
Responsibilities
As a member of a multi-national, multi-site team, you develop software for the embedded systems of the electric vehicle of the future.
Your main tasks are:
development and implementation of SW functions for controlling electric motors, diagnostics, signal processing and simulations
simulation of the functionality and components of the powertrain
design and implementation of algorithms in C
design of functional tests in a simulation environment
implementation of tests and static code analysis
integration of SW modules
collaboration with other teams in the development process
development for: Infineon Tricore (Aurix)
work with: ClearCase, ClearQuest, DOORS, Vector toolchain (CANape, CANoe, CANalyser)
Requirements
you graduated a faculty in the fields of: IT, electrical engineering or similar
you have a good understanding of software engineering fundamentals
you already have experience with: C and / or C ++
you know the basic strategies for automated testing of software
you can communicate easily in English
And most of all: you are like us!Are you a team player, open and have a positive attitude towards challenges? That is exactly what we are looking for!
Apply with us
In our company you will find nice colleagues, a friendly team and a professional work environment.
We ensure an initial induction period at the beginning of the activity.
Other benefits: flexible working hours (full time), meal tickets, private medical services.
We are looking forward to meet you!
Send us your application!