At in-tech we test vehicle electronics and develop software for industry and transportation vehicles.
We are different than the others: We are orange! What about you?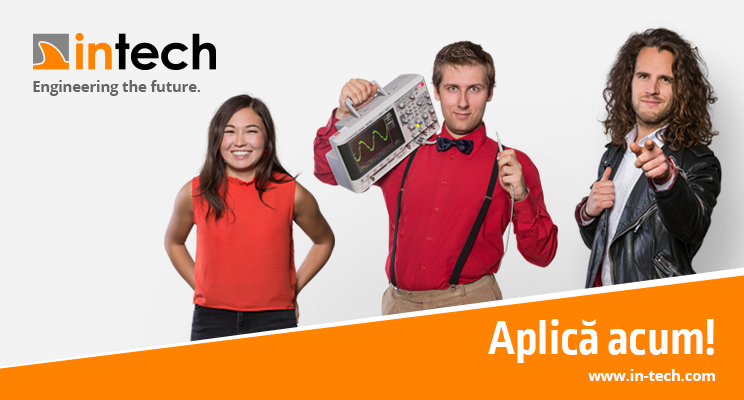 in-tech believes in and offers an outstanding work atmosphere, team spirit and a fun place to work. We always give our best performance. That is why we look for colleagues who share this enthusiasm with us and want to proceed full speed ahead together with us.
We are looking for 5 software analysis engineers to join our team in Brasov. Our team here is working closely with their colleagues in Germany on analysing the errors following the testing of the prototypes on the road for an important car manufacturer. As a software analysis engineer you will perform a functional evaluation of E / E components based on error messages and diagnostic protocols.
Responsibilities
You collaborate with your team to ensure a fault-free production start for the customer, as part of the quality assurance of on-board diagnostics.
Your main responsibilities will be:
Analysing traces of dtcs (diagnostic trouble code) to determine which ECU (electronic control unit) is responsible for the error
Documentation of results in data base
Communication in tickets and/or e-mails with developer and problem finder
Participating in internal meetings
Tools used in the project (will be learned during the induction): Trace Analyzer: CARMEN, CANalyser etc.
Ticket System: HP ALM (former: Quality Center), JIRA etc.
Specific Tools: CARMEN, ZEDIS, TD530, DAFIS, CoPE, QlikView, FASTA, FBM Viewer
Requirements
Master or Bachelor / Engineer in the fields of electrical engineering, automotive engineering, information technology or computer science
Self-responsible operation with a high quality awareness
Good understanding of the car functioning
Previous knowledge in bus communication is desirable
German and English skills mandatory
Apply with us
In our company you will find nice colleagues, a friendly team and a professional work environment.
We ensure an initial induction period at the beginning of the activity: technical documentation and training on the job.
Other benefits: flexible working hours (full time), meal tickets, private medical services.
We are looking forward to meet you! Send us your application today!