Detalii loc de munca
ANUNT INACTIV:
Angajatorul nu recruteaza momentan in mod activ pentru aceasta pozitie, dar poti aplica la anunt.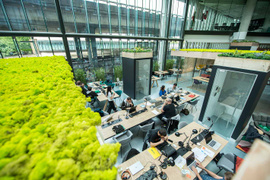 Nivelul carierei
Entry (0-2 ani), Middle (2-5 ani)
Limbi vorbite
Engleză
- Avansat
* toate limbile sunt obligatorii
We are seeking a highly talented person to fill the role of Service Desk Team Leader.

Our client is based in UK and they are a digital training organization that educates teams across the world's leading brands and agencies to help drive transformation and growth and since 2009 they have been delivering learning programs to more thanlearners globally, in more than 200 companies, across 124 countries.

If you are passionate about customer service, dealing with customers via email and working in a team then we would love to hear from you.

The client is offering the opportunity to progress and develop as a Team Leader.

The shit is a rota one, it is Monday to Friday 8am-4pm and 2pm-10pm.
Key Responsibilities:
As a Customer Service Lead with Circus Street you are seen, both internally and externally, as the
authority on delivering the best experience to our inbound learners. You will oversee the
operation of our Helpdesk and manage a Customer Service Agent. You will advise and implement
best practice, lead customer service projects, and work closely with the Tech, Product and
Account Management teams to provide quick and friendly results for our clients. Your experience
in previous customer service roles will be crucial in bringing new processes and disciplines to our
● Being proactive and spearheading all customer service initiatives such as; improvements
to the workflow, building a knowledge base from scratch, improving how we use the
features on our platform (Zendesk), improving our response times from other members of
the business (account management and tech teams)
● Be hands on and become and expert on all things Circus Street product so you can easily
troubleshoot without assistance
● Be proactive and work with the account management teams to update the knowledge
base for client specific challenges (before and after launch)
● Leading the strategy of the customer service team, coaching the customer service Agent
to ensure customers receive friendly, efficient and accurate service
● Working as the lead of a team to handle a large volume of inbound enquiries, and
constantly helping to improve the efficiency of this process (. by maximizing the
amount of questions solved through self-help on our knowledgebase, and speeding up
time to reply to tickets through use of automations and macros).
● Replying to customer queries with professional, friendly, and informative responses.
● Lead the implementation of new Zendesk features
● Own the Zendesk and Circus Street vendor relationship to ensure we are optimising
features and functionality
● Develop Service Desk SLA and ensure they are adhered
● Report results on all things customer service (SLA's, ticket trends) to wider business
● Writing and updating Macros, tags and filters in Zendesk to enable speedy, professional
and informative replies to common questions.
● Setup Support Centre Knowledge base to improve the quality of our self-serve support.
● Lead research and make recommendations to our Product team to improve the customer
service experience, using forward facing technology such as chatbots and AI
● Liasing with the Account Management team to ensure clients and learners are informed
of the outcome of support requests and escalate when required
● Working with our Technology team to

Education, Experience and Skills Required
A 1st class or 2:1 University degree
Excellent language and typing skills
Good analytical skills
Good problem solving skills
Exceptional self-organisation and personal motivation
Experience with Zendesk or similar ticketing and support platform
Experience or interest in Crowd Funding platforms and campaigns
A flair for marketing and sales
Exceptional confidence with speaking to and influencing people
You should be into "DIY" style projects and enjoy building and fixing things, and consider yourself a "Quick Learner"
A background in engineering or a technical subject is preferred
Troubleshooting

To be Successful
We are looking for someone who demonstrates the following competencies:
Self-Starter - ability to execute and implement change to our products that drive revenue
Passion – for driving and achieving your goals
Collaborative Working - enjoy working in partnership and collaborate with colleagues across the organisation to recognise shared objectives and priorities, and work cooperatively to achieve them
Goal Oriented – naturally motivated to reach your team's goals above your own
Interpersonal/Communication Skills – Able to quickly establish and maintain excellent relationships and credibility
Decision Making – provide a good balance of risk taking and judgment; Is forthright and confident to take initiative, make decisions and be responsible for the consequences of the decisions made; Able to operate independently
Professional – unquestionable integrity, credibility, and character
Good Bones – Respectful and caring attitude towards employees and colleagues, collaborative and helpful approach
Benefits:
Work from home
Competitive Salary
Flexible hours
20 days of holiday ( year after year will go up with an extra day)
Christmas and Easter bonuses
Shopping vouchers
Medical subscription
Social events organized and funded by the company throughout the year
Meal vouchers
POTENTIAM

Potentiam delivers the considerable benefits of 'Smart Resourcing' to businesses of all types. Big business has been investing heavily in 'outsourcing' for over 15 years and it's now time to make a similar but improved model easily accessible to medium-smaller sized businesses.

The huge benefits of reducing costs, improving cash flow and reinvesting the considerable savings in a growth strategy allowing us to truly outgun the competition. Without 'Smart Resourcing' we would have struggled to achieve any of this. We believe we can play a key role in powering your business.

Be a part of Potentiam Services. Srl, be a part of smart resourcing!

We are committed to protecting the privacy of all of our candidates and clients. Following some recent changes to data protection laws we have updated our Privacy Policy. To view a copy and to help you understand how we collect, use and process your personal data please visit the Privacy page on our website