---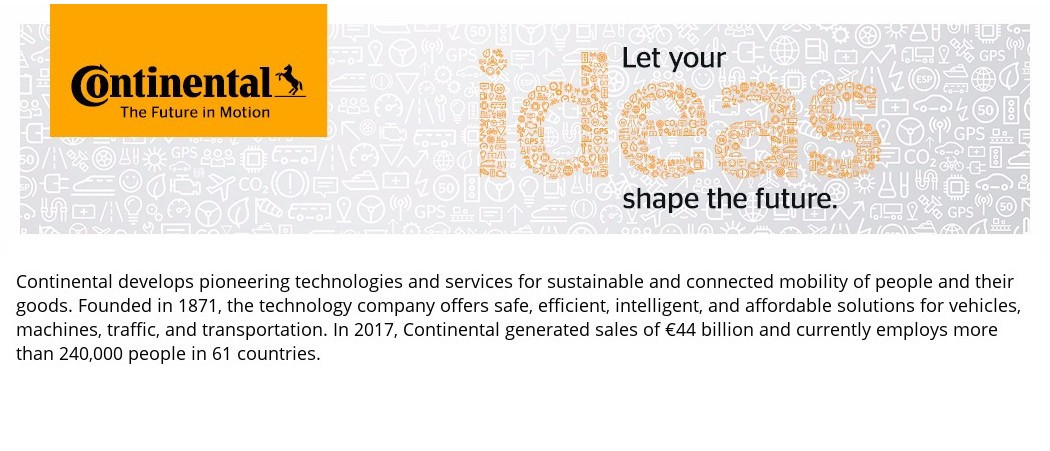 With sales of €40. 5 billion in, Continental is among the leading automotive suppliers worldwide and currently employs more than 230k employees in 56 countries. As a division in the Continental Corporation, ContiTech is one of the world's leading industrial specialists. Its customers can be found in key industries such as machine and plant engineering, mining, the agricultural industry, and the automotive industry. With around 46k employees in 44 countries, the company uses its development and material expertise for products and systems made of rubber, polyamide, metal, textile, and electronic components to combine these with individual services. ContiTech also offers functional and design-oriented living solutions and is always searching for customer-friendly and environmentally-friendly answers – going well and truly beyond its roots as a producer of rubber products. With sales of approxima tely €5. 5 billiothis international technology partner is active with core branches in Europe, Asia, North and South America.
Job Description:
Coordonează activitatea zilnică a echipei.
Se asigură că realizează planul de producție zilnic.
Este responsabil de planul de training al echipei.
Înlocuiește, la nevoie, membri ai echipei.
Redactează rapoarte zilnice / săptămânale / lunare.
Efectuează evaluarea oamenilor din echipa pe care o coordonează.
Job Requirements:
Minim studii liceale finalizate.
Cunoștințe calculator.
Cunoștințe limba engleză.
Integritate.
Abilitatea de a coordona o echipă.
Abilități foarte bune de comunicare și organizare.
What we offer:
Training.
Posibilitatea să îți dezvolți cariera cu noi.
Posibilitatea să înveți lucruri noi zilnic.
O echipă dinamică.
Pachet salarial motivant. Bonusuri.
Transport gratuit.
Asigurare privată de sanatate pentru tine și familia ta.
Ready to drive with Continental? Take the first step and fill in the online application.

---