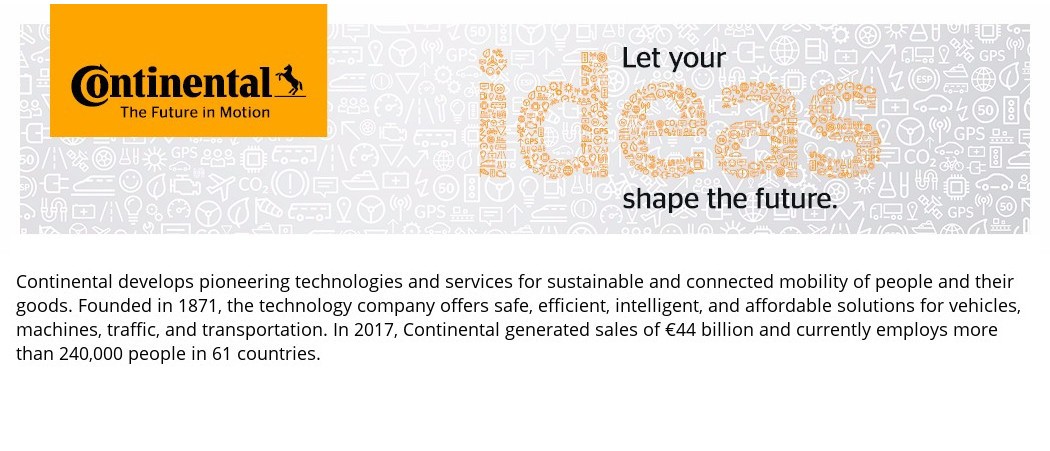 SAP Basis Administrator
With sales of €40. 5 billion in, Continental is among the leading automotive suppliers worldwide and currently employs more than 230k employees in 56 countries. As a division in the Continental Corporation, ContiTech is one of the world's leading industrial specialists. Its customers can be found in key industries such as machine and plant engineering, mining, the agricultural industry, and the automotive industry. With around 46k employees in 44 countries, the company uses its development and material expertise for products and systems made of rubber, polyamide, metal, textile, and electronic components to combine these with individual services. ContiTech also offers functional and design-oriented living solutions and is always searching for customer-friendly and environmentally-friendly answers – going well and truly beyond its roots as a producer of rubber products. With sales of approximately €5. 5 billionthis international technology partner is active with core branches in Europe, Asia, North and South America.
Responsibilities:
We are looking for a team player within a globally operating SAP base administration team to operate a highly complex SAP system landscape. Your assistance is needed in global projects, together with globally operating teams, thus also to ensure the "daily operations".
With your experience, you develop and optimize implementation and operating standards within the classic SAP administration and control our provider. You are available to the IT application teams as competent contact persons for SAP Basis as well as for general topics.
In this position, you have extensive experience in the newer SAP technologies (Portal, Solution Manager, PI, etc.) and can represent them to both internal customers and external partners according to established standards.
Requirements:
+ 2 years of experience in the SAP NetWeaver JAVA environment (PI, Portal, SAP Solution Manager , etc.);
+ 2 years of experience in the classic SAP Netweaver ABAP environment based on Unix / Linux and Oracle, SAP HANA;
Experience in conception and execution of SAP projects, (release upgrades, SP & EhP upgrades, etc.);
Control and coordination of the external service provider for SAP and non­SAP operations;
Supervision of application base operation (above operating system level);
Supporting and advising the Business Organization on questions or problems related to the operation of the SAP systems;
Monitoring and controlling compliance with SLA in the area of SAP Basis;
Further development of support and operating concepts in the SAP Basis environment;
High customer orientation, analytical thinking, responsibility for high quality services;
­Good communication and project management skills as well as in other cultures;
­Very good command of spoken and written English;
We offer:
Possibility to work from home (mobile work) a couple of days/ month
Competitive Salaries & Benefits
Professional Development Opportunities
Health insurance
Transport
Stability
Ready to drive with Continental? Take the first step and fill in the online application.