Junior Financial Risk Consultant
Nivel cariera
Middle (2-5 ani), Entry (0-2 ani)
Limbi vorbite
engleză, română
Acest anunt este inactiv, însă puteți trimite în continuare CV-ul Dvs. la aceasta companie
---

Our local Advisory Practice is, among other, a leading provider of Process and Risk Management Services to Banking and big Corporate clients.
As a consultant you will be part of the advisory team responsible for engagements with financial services clients. You contribute technically to client engagements and internal projects dedicated to financial services institutions.
Your area of expertise? Regulatory changes impacting our clients.
Technical skills requirements
Graduate degrees preferably in statistics, mathematics, physics, engineering, risk management, economics, finance or other area with strong quantitative focus.
Excellent, proven communication skills both oral and in writing, in English and Romanian
Excellent abilities Microsoft Office (PowerPoint, Word, Excel)
0 – 2 years of experience in banking institutions in one or more of the following areas would be considered as an asset: banking processes, process assessment and re engineering, IT implementation (business requirements preparation, testing, project management), Basel, reporting, risk management, risk modeling
Experience in a consultancy company (strategic or Big 4), would be considered as an asset
Client responsibilities
Working in a team, you will interact with the client in order to collect and deliver all the necessary data/information/reports regarding the scope of the engagement.
Support in preparing reports and schedules that will be delivered to clients and other parties
Performs research projects about financial service industry and institutions
Anticipates and identifies risks and escalates issues as appropriate
Prepares presentations and creates working files necessary for the engagement
Work effectively as a team member, sharing responsibility, providing support, maintaining communication, and updating senior team members on progress
Develop and maintain productive working relationships with client personnel
Build strong internal relationships within EY Advisory Services and with other services across the organization.
Skills
Positive attitude and demonstrate willingness to learn
Work constructively with team
Creative thinking, problem solving orientation
Self-motivated, positive attitude
Attention to detail with a commitment to high quality and accuracy
Desire to exceed expectations
Interest in the different fields of consultancy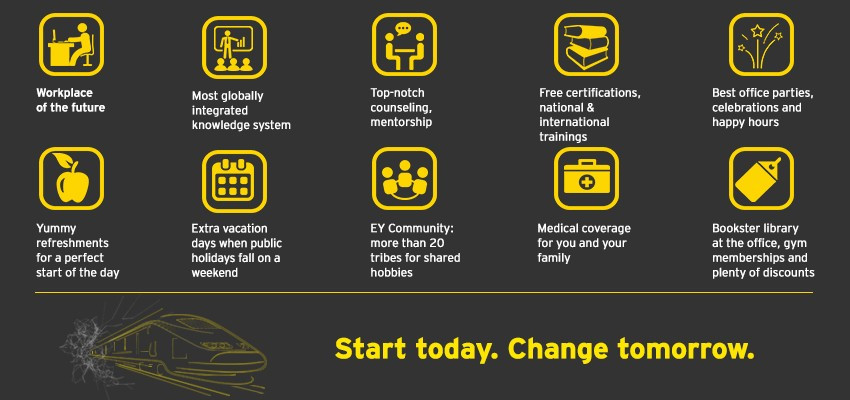 ---