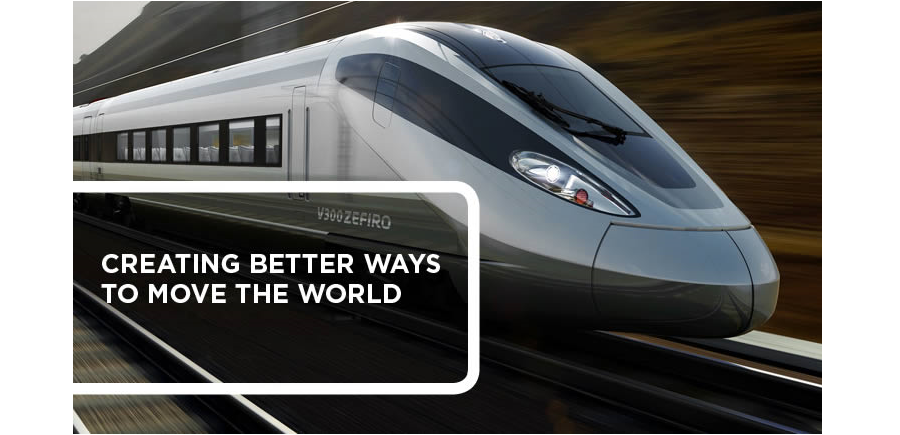 We are Bombardier
Get on board we can drive you further in your career!

As the world's leading manufacturer of both planes and trains, we have built an extensive and diverse portfolio of winning mobility solutions. Everywhere people travel by land and in the air, a Bombardier product is ready to transport them. From category-defining business, jets and commercial aircraft designed for the challenges of today, to sleek high-speed trains and public transit that is smarter than ever.
Bombardier Transportation is a global engineering company that is shaping the evolution of mobility. We have a rich heritage behind us, but it is our innovative approach that puts us at the forefront of our industry. At the heart of everything are our employees and our suppliers, with whom mobility truly begins.
Our Global Procurement Centre (GPC) in Cluj, Romania is part of the Global Supply Chain/Strategic Procurement department, providing excellent service for the organization across different commodities: Indirect Goods and Services (IGS), Product Related (PR) and Information Systems (IS).
Automation Officer
Your Role:
As an Automation Officer, you will be in charge of facilitating the successful entry into the digital era of our Global Procurement Center organization. You will identify digitalisation needs, then proposing and deploying the right strategy to simplify access to and treatment of data and transactions. You will define, update and/or drive the right GPC Procurement Cluj and Cebu & Supply Chain Automation strategy and its implementation, in alignment with GPC customers and optimisation specialists to support the realization of the GPC vision, strategy, organization and processes.
Your Challenges:
Taking responsibilities for setting the Automation & Standardization strategy and roadmap in line with optimization targets and strategy in GPC, as well as reporting on progress;
Developing business cases, align with BIS, RFQ as needed, challenge and negotiate with potential Automation suppliers, in line with Bombardier usual sourcing strategy and process (including IS/IT);
Identifying, measure, track, validate and communicate benefits and outcomes delivered by Automation; organize and lead project governance and steering committees;
Developing automation solutions in house according to the startegy;
Managing risks throughout change initiatives by conducting risk analysis and developing mitigation plans for each project;
Engaging with leadership and key stakeholders to fully understand organizational structure, business processes, and - roles and responsibilities to identify further automation potential and innovative technologies;
Leading the development and execution of digital projects / components in optimisation initiatives supporting the communication strategy, ensuring involvement of the appropriate stakeholders at all levels of the organization, including other functions (especially IS, but also Legal, Finance, as needed);
Collaboration with project teams involved in the Automation projects to keep them and all operational teams impacted enthusiastic, engaged and open to change;
Ensuring effective communication within project team and internal stakeholders, customer focused behavior to enhance customer satisfaction (via respective business partners);
Qualifications
Degree level qualification in Information technology or equivalent experience;
5-8 years of relevant experience, including Robotic Process Automation project lead;
Experience of large scale systems and tools/technical solutions;
Strong mindset into Project Management, from inception to implementation and end results;
Process improvement (Lean, Six Sigma) certification desirable (Green Belt or Black Belt);
Knowledgeable of CI methodologies (PDCA, VSM, AMDEC, QRQC etc);
Excellent oral and written skills in English are a must;
Why work for us?
The Global Procurement Center in Cluj-Napoca offers an outstanding professional environment with career development opportunities you would expect of a market leading international organisation. We are located in the center of the city and we offer an open, friendly working environment.
Are you interested in starting an exciting career at Bombardier Transportation?
Your ideas move people!