Detalii loc de munca

.NET Developer - Junior/Middle/Senior
Nivelul carierei
Entry (0-2 ani), Middle (2-5 ani), Senior (5-10 ani), Executive (>10 ani)
Tip job
Full time
Job partial remote
(timpul de lucru se va imparti intre remote si sediul companiei)
Limbi vorbite
Engleză
- Mediu
, Engleză
- Avansat
* toate limbile sunt obligatorii
Salariu net pe luna
1200 - 2200 €
Interested in working with the latest technologies ?
We're looking for talented and highly motivated .NET DEVELOPERS to be part of our dedicated teams involved in various exciting projects and make a change in the world's industries.
Come and join our our team and work in a dynamic and challenging environment where every person is empowered to evolve, show initiative and be proactive.
Learn more about us on Facebook and 👍 APTUS page .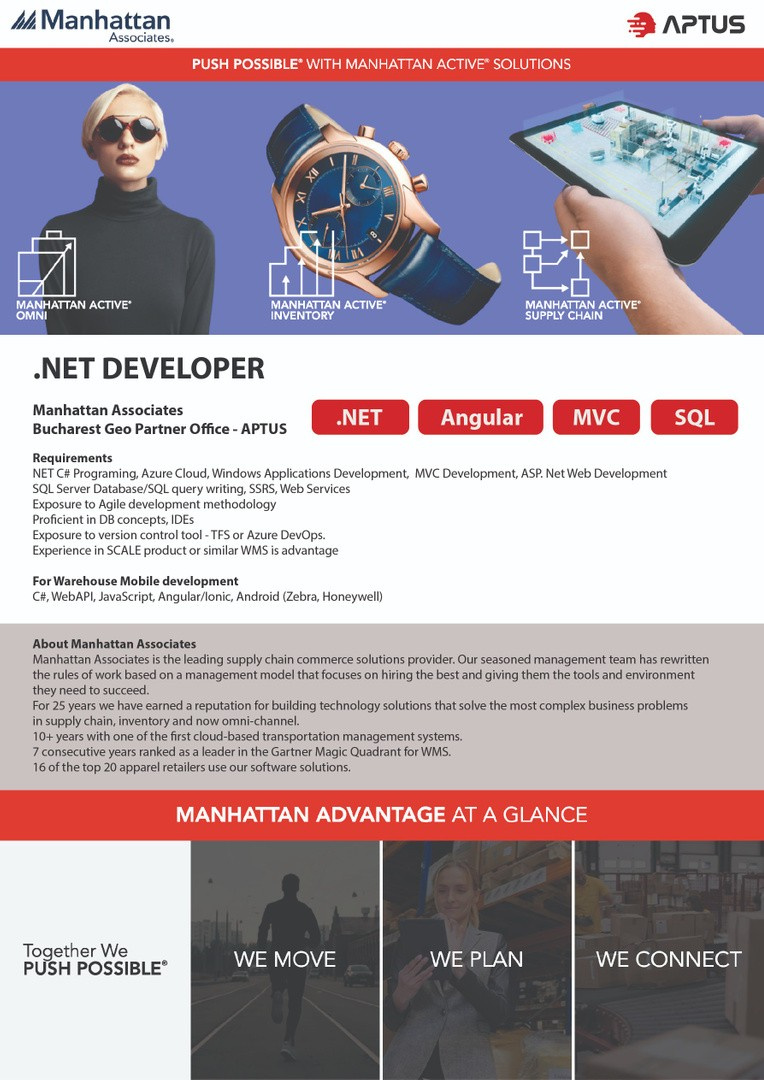 What we offer:
Full time employee labor contract and competitive salary based on qualifications and seniority;
Flexible working schedule with work from home opportunity;
Yearly performance bonus and referral bonuses;
Company supports exams and certifications and offers internal trainings;
Continuous learning opportunities to strengthen your professional & personal skills;
Personal growth and promotion opportunities;
Friendly working environment with experienced professionals.
For more details you can contact us.
Apply your talent into figuring the shape of Modern Supply Chain; IoT; Smart City; Urban Mobility; Security & Safety; Audio & Video Conference Solutions; Chip and PIN payments.
About us 🌏
APTUS is a leading global consulting and software solutions company enabling enterprise commerce for the world's leading manufacturers, distributors and multichannel retailers. APTUS is uniquely experienced in both optimising supply chain efficiencies to drive cost savings, and unifying commerce to drive customer engagement and revenue. APTUS has the firm's ability to consult, implement and operate across supply chain, transportation, IT, enterprise business solutions and multichannel, allows to leverage APTUS as a trusted adviser across their enterprises.
APTUS is representing Manhattan Associates being a strategic Geo Partner. Manhattan Associates is at the forefront of the most innovative supply chain technologies in the industry.
Today, Manhattan has licensed more than 1,300 customers across 2,500 facilities worldwide, including some of the world's leading manufacturers, distributors and retailers. Growing to be the leading supply chain software and service provider, Manhattan Associates has been named in the Gartner WMS Magic Quadrant for 11 years in a row. With an investment of more than $394 million dollars since, the commitment to research and development continues to exceed that of other supply chain solution providers.