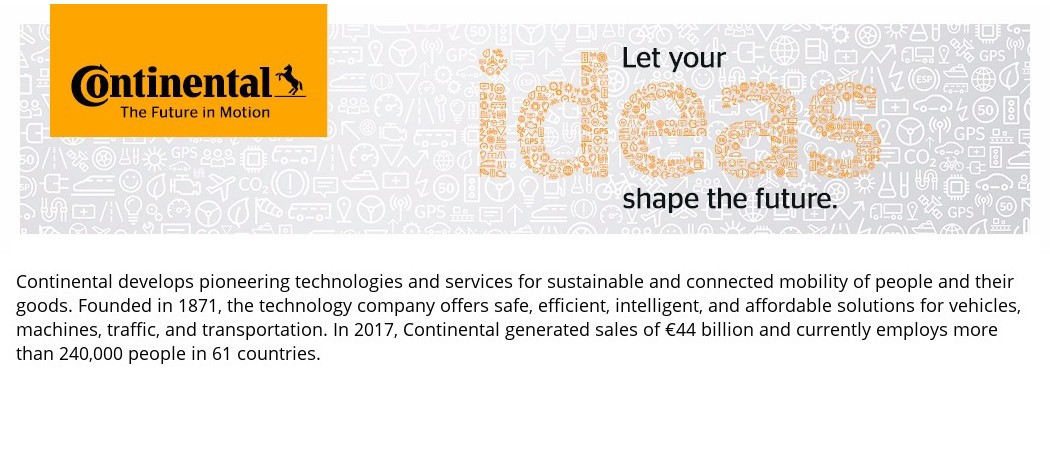 Mechanical Engineering Head for Instrument Cluster I ID TSR
With sales of €44 billion in, Continental is among the leading automotive suppliers worldwide and currently employs more than 240k employees in 61 countries. Information management in and beyond the vehicle is at the very heart of the Interior division. The product portfolio for different types of vehicles includes: instrument clusters, multifunctional and head-up displays, control units, access control and tire-information systems, radios, infotainment systems, input devices, control panels, climate control units, software, cockpits as well as services and solutions for telematics and Intelligent Transportation Systems. The Interior division employs more than 46k people worldwide and generated sales of €9. 3 billion in 2017.
The specialists in our Interior Division work passionately to keep drivers and passengers informed of their vehicles' status – and in touch with the world outside – a t all times. They develop and produce a wide range of intelligent, user-friendly products for private and commercial vehicles (factory and after sales markets), including instruments and displays, cockpit modules, audio and navigation devices, multimedia and telematics solutions, and control, steering and access protection systems. As Mechanical Engineering Head for Instrument Cluster product group you will be responsible for the coordination of the worldwide Mechanical Engineering activities and teams which are working for the Instrument Cluster product group.
The main responsibilities of the Mechanical Engineering Head are:
* Lead dedicated and generic ME teams from all worldwide locations;
* Develop local and global product strategy, in line with the BU-level segment vision & strategy;
* Evaluate and define the used toolsets & processes based on latest engineering methods;
* Drive optimization of development process in terms of effectiveness and efficiency;
* Ensures and drive high quality orientation in ME development;
* Responsible for the interface to the core development and customer segments;
* Participation in cross-discipline R&D-teams;
* Drive organizational changes as necessary;
* Projects prioritization, resource planning and dynamic staffing of project teams and taskforces;
* Inspire/motivate team members to come up with lowest cost/best performance R&D solution for all OEM projects;
* Leverage synergies and force re-use across customer projects and locations;
* Ensures overall R&D process conformance for projects;
* Ensure the right DTC and RDTC measures;
* Responsible for production launch and production improvements;
* Responsible for planning and results of different internal and customer audits;
* Customer communication related to projects and escalation points related to ME;
* Ensures appropriate training of employees in order to improve their level of technical know-how as well as required soft skills;
* Ensures the right performance management of the team members;
* Responsible for the strategy and operational business with external subcontractors;
* Representing of mechanical area of responsibility towards internal organization and customer.
Job Requirements
* University Degree in technical field;
* Knowledge of various quality processes form R&D and production;
* Knowledge & experience in quality audits (ASPICE, ISO, VDA);
* International experience is a plus;
* 5+ years of leadership leading teams (project team or discipline team);
* 3+ years staffing and tracking of large scale programs;
* Initiative, communication skills;
* Automotive experience is an advantage;
* Fluent English; German or Italian is an advantage;
* Decision-making ability and open;
* Committed and motivational appearance.
What we offer
* Integration Program in a professional, young & dynamic team;
* Competitive Salaries (based on performance) & Benefits;
* Health & Wellness (Private Health and Life Insurance, Sport activities etc.);
* Professional Development Opportunities (in Technical and Managerial Area);
* Stability;
* International Work Environment & Traveling Opportunities;
* Relocation Package for non-Timisoara Residents.
Ready to drive with Continental? Take the first step and fill in the online application.