Mechanical Design Engineer for C&S (Iasi)
Nivel cariera
Entry (0-2 ani)
---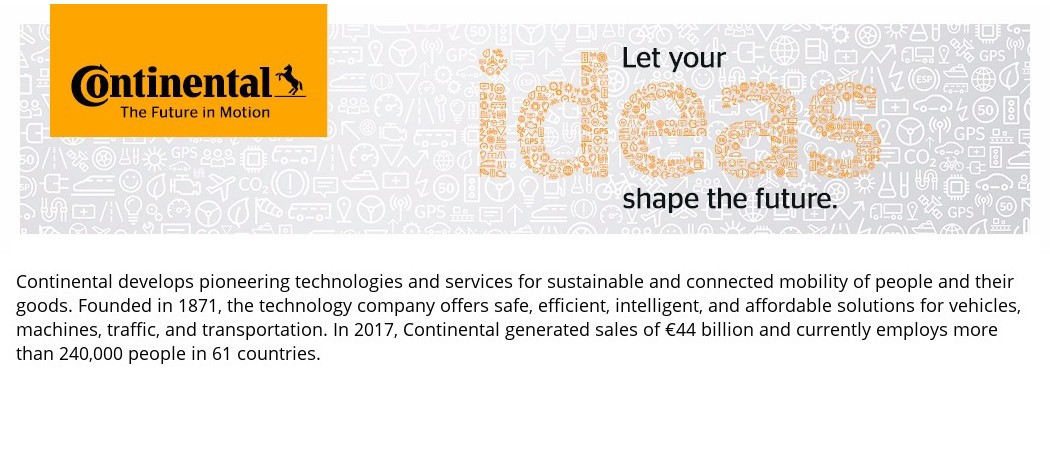 Mechanical Design Engineer for C&S (Iasi)
Job Description
Within Chassis & Safety Division your engineering skills can make a difference in the development of exciting new automotive products and technologies. Chassis and Safety Division in Iasi contributes to the Continental Automotive research and development effort over tree main branches:

• Systems and Technology where tomorrow's Chassis and Safety products are foreseen and integrated into highly automated vehicle driving functionalities
• Vehicle Dynamics Business Unit provides highly advanced braking technologies for all vehicle types, usable in vehicle ranging from small cars right to transportation vehicles.
• Steering Segment, modern Electric Power Steering systems are developed, making the driving experience for the driver safer and at the same time, reducing the fuel consumption and CO2 emissions.
• Passive Safety and Sensorics concentrates in Iasi in developing a state of the art active body roll stabilization system that reduces the body roll of the vehicle and enhances the lateral vehicle stability when
• Advanced Driver Assistance Systems is providing both sensors (from simple ultrasonic parking sensors to radars and advanced stereo or surround view cameras) and computation platforms for running safety, maneuvering and cruising functionalities.

As a member of our team you will be responsible for the development and design of mechanical and electromechanical equipment and components which include:

- Concept design, generation of CAD models and drawings with ProE / Catia V5);
- Interface between mechanical, hardware and layout area;
- FEA;
- Material choice;
- Tolerance calculation;
- Work on prototype/first sample;
- Documentation (CAD data, test specification, review protocols).

A mentor will support you to stepwise take over own responsibility after an initial training phase which will familiarize you with our products, tools, processes and organization.
Job Requirements
- University Degree in Mechanical Engineering or comparable;
- Tolerance analysis / FEA knowledge is an advantage;
- Knowledge of plastic design, die cast, sheet metal parts;
- Modeling / drawing / assembly ( in ProE / Catia is an advantage);
- Some experience on 3D CAD;
- Initiative, communication skills;
- Automotive experience is an advantage;
- Fluent English and/or German.
What we offer
• Competitive Salaries (based on performance) & Benefits;
• Health & Wellness (Life Assurance, Private Health and Dental Insurance, Sport activities etc.);
• Integration Program in a professional, young & dynamic team;
• A mentor for the integration period
• Professional Development Opportunities (in Technical and Managerial Area);
• Stability;
• International Work Environment & Traveling Opportunities;
• Relocation Package for non-Iasi Residents.
Ready to drive with Continental? Take the first step and fill in the online application.

---