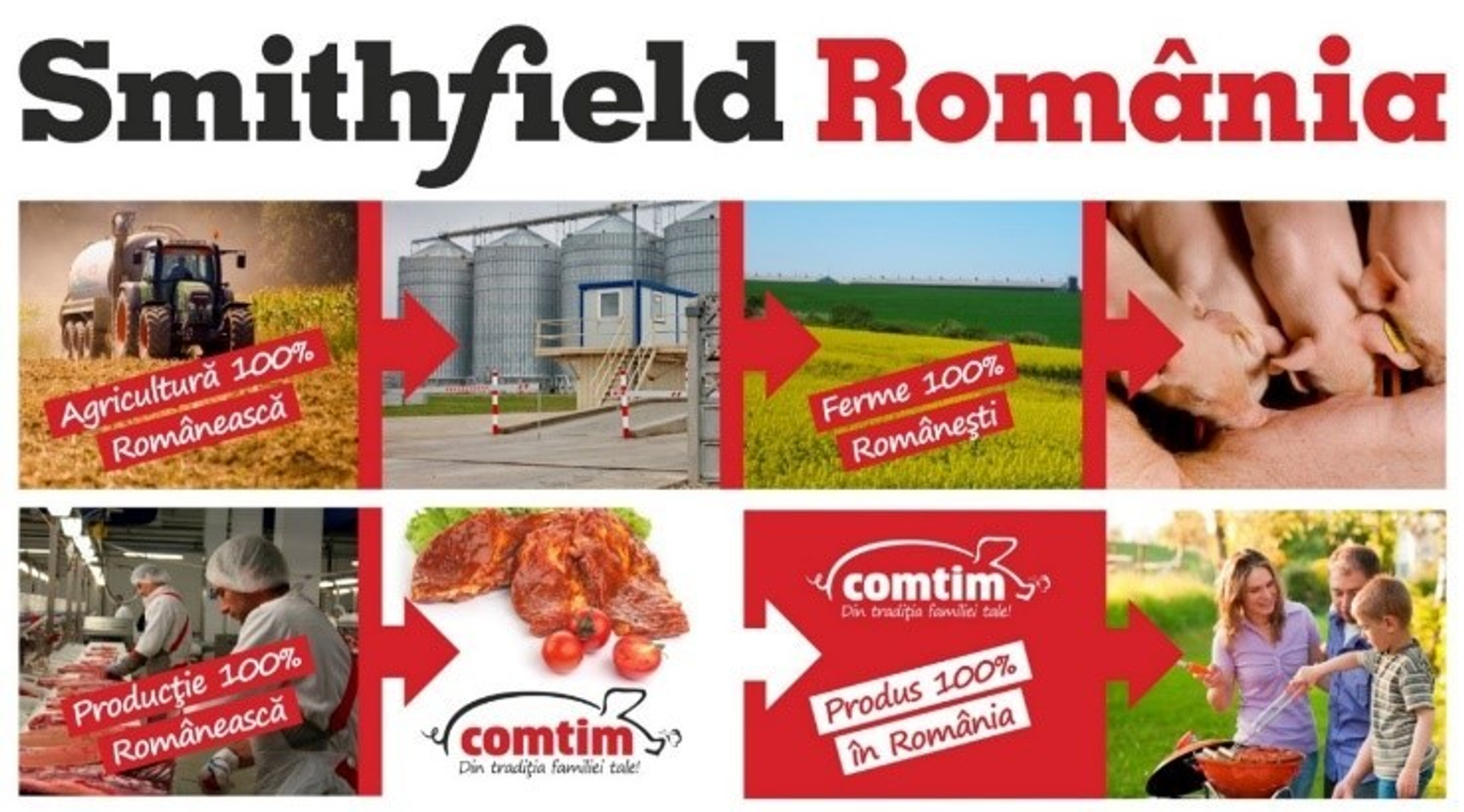 Smithfield Romania has been present on the Romanian market since, developing over time a successful integrated business model, from "farm-to-fork", following investments of over USD 600 million to date. Our Group includes in an integrated system the Farms Division (hog production division), the Fresh Meat Division and the Packaged Meats Division (Elit and MaierCom).
We provide daily, fresh and healthy meat products to our millions of consumers, positively impacting the communities where we live and operate. We produce the best quality pork in an integrated system, while setting the highest standards of quality in the industry.

Smithfield Romania gets continuously involved in sustainable programs, which impact the communities where we operate, and invests in professional development of its over 4,000 employees from Romania.

Smithfield Romania means, first and foremost, a team of 100% engaged professionals.
Smithfield Romania knows the importance of a corporate culture that inspires. We communicate transparently with employees and create the context to propose ideas and solutions for continuous improvement, to work together in a pleasant, safe and innovative environment.
► Join a great international team!
► We provide stability and multiple opportunities for career development.
► We are a company in continuous growth and development.
By the contribution of all its members, our team excels and supports large projects. We are currently the market leader in animal husbandry and food industry in Romania.
We are looking for highly motivated colleagues to manage the maintenance team in our Feed Mill Production Department. If you have proven experience in a maintenance and management role, with excellent organizational and leadership abilities, then we encourage you to submit your application.
Requirements:
Bachelor's Degree in Engineering or related field required;
Proven experience in a maintenance management/coordination roles;
Ability to keep track of and report on activity;
An open eye for the improvement of the quality of the maintenance activity, initiative, problem-solving skills;
Able to manage and schedule multiple priorities and meet deadlines;
In this role, you will:

Plan and organize the maintenance activity;
Elaborate the maintenance plan and implement it;
Coordinates and streamlines maintenance teams to ensure maintenance and repair processes from Feed Mill deparment;
Perform regular assessments of the maintenance activity outcomes and take measures for its improvement;
Interface with maintenance vendors and material suppliers to ensure the purchase of proper materials;
Supports, develops and coordinates subordinate staff;
Evaluate the performance of subordinate staff;
Define the strategy and objectives for the maintenance activity development to meet the achievement of the objectives established by the management board;
Perform other duties as assigned Key Qualifications/Requirements.
* The personal information you submit will be used only for recruiting purposes, will remain confidential, and will be stored for 1 year. By submitting your personal data, you are consenting to the use of your personal data for recruiting purposes within the Smithfield organizations. If you have any questions or concerns, or to access, correct or delete your personal data, contact the Company.