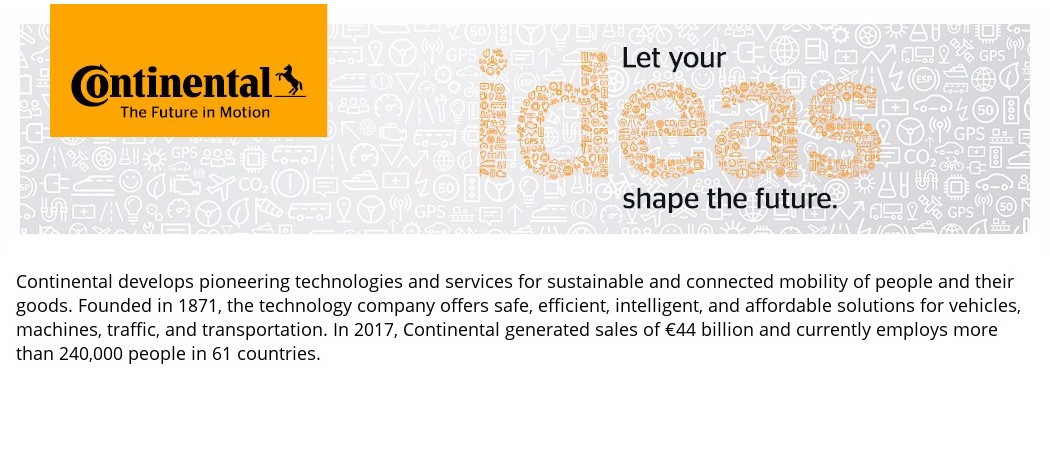 Maintenance Engineer
The Powertrain division develops and produces efficient system solutions for vehicle powertrains to optimize fuel consumption. The comprehensive range of products includes gasoline and diesel injection systems, engine management and transmission control, including sensors and actuators, exhaust-gas after -treatment technologies, fuel supply systems, and components and systems for hybrid and electric drives. Powertrain employs more thak people worldwide and, in, recorded sales of about €7. 7 billion.
Job Description
* Create preventive maintenance planning and ensure that preventive maintenance activities are performed;
* Perform trouble shooting, inspection and repair of the production equipment;
* Manage the spare parts list of production equipment according with the Equipment Manual;
* Perform short-term inspection of the production equipment and cleaning;
* Is actively part of the local project team for product launches with input from serial production maintenance;
* Offers support for the implementation of line changes after SOP;
* Documentation: ensure that before SOP sufficient equipment specifications are available for maintenance;
* Shared responsibility for the associated KPI performance - downtime and scrap caused by equipment unavailability;
* Support for the continuous improvement of manufacturing processes;
* Support the performance improvement of production equipment: quality (ppm), scrap costs reduction, cycle time reduction, technical availability - OEE (FPY, cycle time, downtime);
* Supports the implementation of CIM proposals related to production equipment;
* Responsible for Poka Yoke implementation;
* Supports the compliance of the equipment with the CBS standards;
* Works closely together with the Process Engineers and Technology Engineers;
* Responsible for coordination, implementation of equipment maintenance activities in the shopfloor, in close collaboration with Production, Quality, Manufacturing Engineering and Logistics;
* Coordinates several Maintenance Technicians as appointed by the direct superior;
* Responsible with the technical coordination of the maintenance technicians;
* Can participate as technical interviewer in hiring processes for new team members;
* Responsible for the workload planning of the technicians in subordination, including vacation planning, daily attendance, and back-up planning;
* Actively participates to FMEA WS and takes over lesson learns from serial production and implements them in new line releases;
* Act as mentor for the integration period of new colleagues: support the definition of Training Integration Plan, goals for integration and offer further support for a successful integration.
Job Requirements
* 3+ years working experience as Maintenance Engineer;
* Knowledge of specific production equipment;
* Knowledge of PLC;
* Knowledge of Mechanics, Electronics and Pneumatics;
* Knowledge of PFMEA;
* Knowledge of English.
What we offer
* Integration Program in a professional, young & dynamic team;
* Competitive Salaries (based on performance) & Benefits;
* Health & Wellness (Private Health and Dental Insurance, Life Insurance, Sport activities etc.);
* Professional Development Opportunities (in Technical and Managerial Area);
* Stability;
* International Work Environment & Traveling Opportunities.
Ready to drive with Continental? Take the first step and fill in the online application.