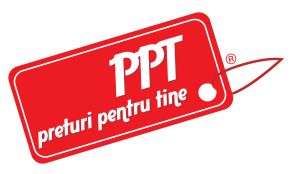 Logistics Manager
Nivel cariera
Middle (2-5 ani), Senior (5-10 ani)
PPT Preturi Pentru Tine is an international fashion retailer company, based on best price-quality ratio, which operates more than 150 own stores, reaching a total of over 1100 employees in Romania, Republic of Moldova, and Bulgaria.

The Logistics Manager leads the company logistics section at group level. Ensures smooth running of activities linked to supply and transportation of goods, equipment and machinery. Co-ordinates stock management. The Logistics Manager is directly subordinated to Logistics Director, which is a Board of Directors member.

Duties and responsibilities:
Is responsible for overall logistics and distribution strategies;
- Selects, develops and implements cost effective, safe and timely logistical solutions;
- Directs subordinate staff, collaborates with heads of other units to co-ordinate shipping requests and resources;
- Participates and decides on selection process of logistic companies, warehouse renting, etc. Plans logistics;
- Ensures that transportation needs are met and that vehicles are properly used;
- Ensures smooth running of one or more warehouses;
- Provides instructions on how to deal with goods and equipment.
- Observes work operations, operation sequence and space arrangements to ensure effective planning for new equipment and machinery installation;
- According to documents, he evaluates suitability of installation of new or improved office machines;
- Ensures that all support services and personnel activities adhere to safety, fire prevention and environmental protection regulations and to legal standards;
- Ensures that issuing of orders and signing of supply agreements takes place in correspondence with the principles and procedures of the company;
- Motivates, coaches and trains personnel to improve quality and output;

Requirements
- university degree in economics, business, logistics or relevant field;
- master degree in economics, business, logistics or relevant field is a plus;
- at least 3 years proven experience on a similar position;
- at least 3 years proven experience on a management position;
- fluent in English is a must;
- strong Office skills (Excel, Word);
- any professional certificate is a plus;

Benefits
- motivating salary package;
- excellent opportunity to join a fast growing company.