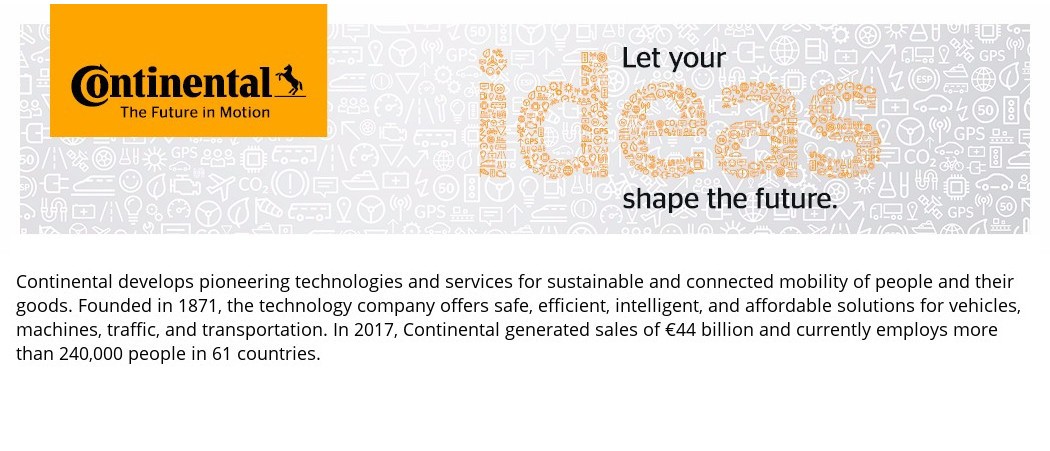 Junior Procurement Buyer with German - Iasi
With sales of €39. 2 billion in, Continental is among the leading automotive suppliers worldwide and currently employs more than 215k employees in 55 countries. The Automotive Group with its three divisions Chassis & Safety (sales of approx. €8. 4 billion in, roughly 40k employees), Powertrain (sales of approx. €7. 1 billion in, roughly 35. 4k employees) and Interior (sales of approx. €8. 2 billion in, roughly 40. 5k employees) achieved sales of approximately €23. 7 billion iThe Automotive Group is present in more than 170 locations worldwide. As a partner to the automotive and commercial vehicle industry, it develops and produces innovative products and systems for a modern automotive future in which cars provide individual mobility and driving pleasure consistent with driving safety, environmental responsibility, and cost-efficiency.
For our Non Production Material HUB Germany we search for dynamic and motivated people to join our Procurement Center team, located in Iasi.
The purchasing specialists in our NPM HUB work passionately to provide high-quality purchasing support to internal customers, and bring added value to our organization by guaranteeing the best market conditions for acquisition of products and services, in terms of costs, quality, and timing. Our purchasing HUB organization provides services to all Continental locations throughout Germany, thus enabling you to take the most challenging journey to Purchasing excellence and opening up opportunities for professional development.
Your main tasks will be to:
• Carrying out all purchasing activities in the area of materials for which the job-holder is responsible;
• Accurately and timely process all purchase requests according to the defined procedure;
• Manage the day-to-day business relationship with key suppliers through supporting activities including ordering, communication of demand/ volume/ delivery time changes, issue resolution, sharing of end-user feedback, follow-up on orders, etc.;
• Process order confirmations;
• Implement the global/regional strategy in their own area of responsibility;
• Work closely with Finance and Accounts Payable to ensure purchasing process completion;
• Identify and support implementation of automation opportunities and alternatives and build relevant strategy together with Sourcing Center and Category Managers;
• Collaborate and communicate effectively across different organizational levels, functions, businesses, and locations to achieve procurement goals and objectives.
A mentor will support you to stepwise take over responsibility after an initial training phase which will familiarize you with our products, tools, processes, and organization.
We are searching for a new colleague that:
• is fluent in German;
• has a Bachelor Degree (one in Economics is an advantage);
• is eager to develop and learn more about purchasing process;
• has strong negotiation and communication skills.
Benefits:
• Integration Program in a professional, young & dynamic team;
• Flexible work schedule;
• Opportunity to grow and gain experience in a multinational company;
• Health & Wellness (Private Health and Dental Insurance, Sport activities etc.).
Ready to drive with Continental? Take the first step and fill in the online application.