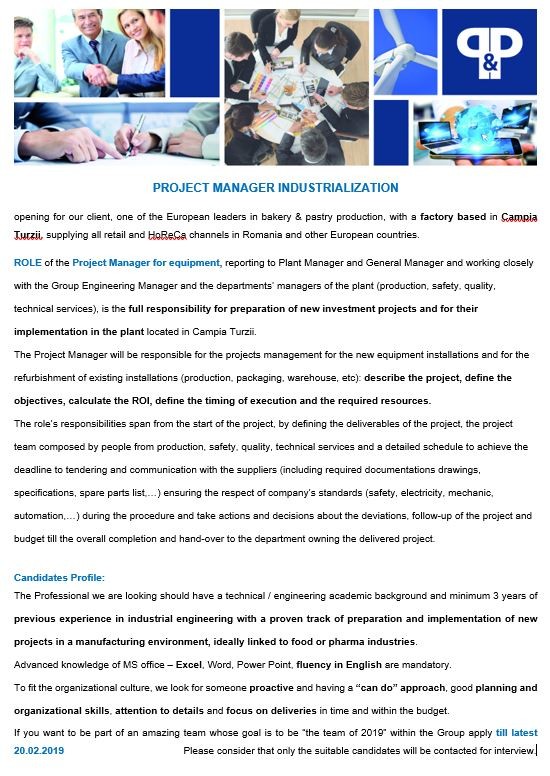 PROJECT MANAGER INDUSTRIALIZATION
opening for our client, one of the European leaders in bakery & pastry production, with a factory based in Campia Turzii, supplying all retail and HoReCa channels in Romania and other European countries.
ROLE of the Project Manager for equipment, reporting to Plant Manager and General Manager and working closely with the Group Engineering Manager and the departments' managers of the plant (production, safety, quality, technical services), is the full responsibility for preparation of new investment projects and for their implementation in the plant located in Campia Turzii.
The Project Manager will be responsible for the projects management for the new equipment installations and for the refurbishment of existing installations (production, packaging, warehouse, etc): describe the project, define the objectives, calculate the ROI, define the timing of execution and the required resources.
The role's responsibilities span from the start of the project, by defining the deliverables of the project, the project team composed by people from production, safety, quality, technical services and a detailed schedule to achieve the deadline to tendering and communication with the suppliers (including required documentations drawings, specifications, spare parts list,…) ensuring the respect of company's standards (safety, electricity, mechanic, automation,…) during the procedure and take actions and decisions about the deviations, follow-up of the project and budget till the overall completion and hand-over to the department owning the delivered project.
Candidates Profile:
The Professional we are looking should have a technical / engineering academic background and minimum 3 years of previous experience in industrial engineering with a proven track of preparation and implementation of new projects in a manufacturing environment, ideally linked to food or pharma industrie
Advanced knowledge of MS office – Excel, Word, Power Point, fluency in English are mandatory.
To fit the organizational culture, we look for someone proactive and having a "can do" approach, good planning and organizational skills, attention to details and focus on deliveries in time and within the budget.
If you want to be part of an amazing team whose goal is to be "the team of 2019" within the Group please apply till latest
Please consider that only the suitable candidates will be contacted for interview.