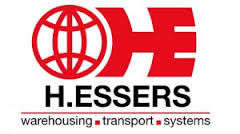 HR Officer
Nivel cariera
Middle (2-5 ani)
H. Essers Romania HR department is looking for a new colleague. If you are an HR admin passionate about excel, strong and analytical thinking and organizing skills, we are looking for you! Join our HR talented and passionate team for a great experience that will enrich your HR knowledge! Benefits? Wow a lot. Our team? One of the best. Working environment? You should come and see.
Requirements:
At least 2 years' experience on equivalent position;
Bachelor's degree in psychology / human resources administration / communication;
Accurate knowledge of Romanian labor law;
A true hands-on approach, as well as the ability to successfully monitor the "pulse" of the employees to ensure a high level of employee engagement;
Experience with rapid and complex changing work environment;
Knowledge and understanding of HR principles, policies;
Very good English and computer skills.
Key skills:
Passion for innovative HR solutions and process improvement;
Strong project skills - ability to lead projects at a network level and drive execution and achievement of the right results;
Organized, highly proactive in managing own tasks and in handling multiple priorities with good attention to details;
The ability to be comfortable with high volume workload and not be afraid to "roll up your sleeves";
A strong solutions focus and be comfortable working in an environment which demands strong deliverables along with the ability to identify problems and drive appropriate solutions;
High level of professionalism, discretion and confidentiality;
Excellent organizational and interpersonal skills.
Job description:
Initiate courageous conversations with leaders and/or employees to address different perspectives among management and employees;
Identify trends, risks, and opportunities within the organization;
Responsible for personal administration: contracts of employment, addendums, job descriptions, organizational charts and termination files according to local labor regulation and company requirements;
Responsible for the calculation of salaries and benefits ;
External and internal reporting, regarding employees.
Managing and optimizing the supply chains of our customers: it's transpossible!

Global supply chains are evolving and becoming more complex. They are requiring integrated, simplifying, agile and cost efficient solutions. Focus is key. We invest in supply chain solutions for demanding industries such as chemicals, pharmaceuticals, healthcare and high-quality product segments.

Over enthusiasts across 67 offices in 15 countries are focusing on our customers' supply chains. With a fleet of trucks and trailers andm² of warehouse space, has become one of the premium logistics providers in Europe.

Get in touch with us today. We make it transpossible with you.
You can also send us your resume at:
Please be advised that our office is located in Bolintin Deal: Str DC 147 nr 2,Giurgiu county.