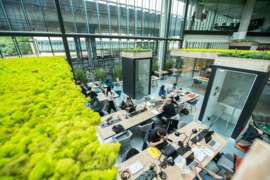 FINANCIAL ACCOUNTANT TEAM LEADER
Nivel cariera
Middle (2-5 ani), Senior (5-10 ani), Executive (>10 ani)
Salariu brut pe luna
1082 - 1442 €
Job description:
The Financial Accountant Team Leader will work on behalf of the Trust and report to the Trust Accounts Manager. The role will have responsibility for the accounting function and financial reporting for the Trust entity and its current five centres. The role will require ongoing communication with the UK based Operations Manager, Trust support as well as the individual centre managers.

The accounting records are prepared in QuickBooks (QBO) online and each of the five centres are run as separate divisions. As the business is a Trust it will not have to account for Vat.

Responsibilities:

From the bank statements post all payments and receipts and prepare a bank reconciliation.

Reconcile the centres cash banking sheets to the bank statements.

Post the following to QBO:

- cash expenses from the cash banking sheets
- vending machine income
- approved purchase invoices to the relevant division and account number
- monthly payroll journals

Reconcile all the balance sheet control accounts and explain reconciling items.
Update the fixed assets register for additions and disposals

On an annual basis enter the annual budget into QuickBooks.

Financial Reporting

Prepare monthly management accounts for each division as well as consolidated results for the combined Trust entity.

The Management a/c's to include:

P&L with actual and year to date compared to budget

Rolling Cashflow forecast

Member data per division with actual v budget

Contribution and EBITDA analysis compared to Budget

One-page monthly report to the Trust board summarising the months results.

Prepare a combined entity monthly cashflow forecast.

Prepare the year end pack for the Auditors and liaise with them to ensure the audit runs smoothly.

Implement any changes to the systems suggested by the auditors.

Providing support to the team in order to meet the agreed deadlines.

Future development of the role

As more centres are added to the Trust, integrate them into the current system. Make recommendations for changes to processes, procedures and technology that will improve the efficiency of the finance function. Review the overhead expenditure and make recommendations for possible savings.
Profesional experience
- Advanced knowledge of the English Accounting System.
- Good knowledge of QuickBooks is an advantage.
- Previous responsibilities in similar roles.
- Ability to meet deadlines.
- Advanced English Language.


Pc Operation:

- Advanced level of Microsoft Office.
- Good knowledge of organizational programs.
- Excellent knowledge of Excel and MS Word.
- Solid knowledge in the field of specific IT applications.

Personal skills:

- Organization capabilities.
- Intelligence (logical thinking, memory, analysis and synthesis capacity).
- Experience in working on multiple domains simultaneously.
- Fairness, tenacity, seriousness, optimism.
- Enthusiasm.
- Team spirit.
- Perseverance, patience.
- Perspicacity, planning skill.
Interviu online
This role is only available for Iasi. Are you willing to relocate, please?
Please apply only if you are from Iasi or willing to relocate to Iasi. Thank you!
Are you familiar with the British Accountancy System, please?
Do you have working experience in the British Accountancy System, please?