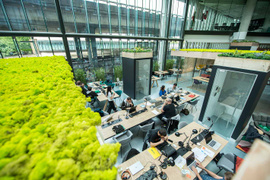 Excel Data Analyst
Angajeaza Premium Talent
Nivelul carierei
Entry (0-2 ani), Fara experienta
Limbi vorbite
Engleză - Avansat
* toate limbile sunt obligatorii
We are seeking a highly motivated and talented individual to fill the role of Assistant Data Analyst for our client who is an independent, pan-European sustainability consultancy specialising in the commercial real estate sector.

Their approach is to provide an exceptional level of service, delivered by experienced professionals, whilst ensuring solutions are practical, simple to understand and tailored to each client's specific requirements.

If you are passionate about data analysis, data processing and driven to develop your skills within a
data science-based career path, then we would love to hear from you.

The shift will be Monday to Friday, UK hours from 9am-6pm or 9:30am-6:30pm with the possibility on Friday to work from home.

Please take in consideration that this role is not a Data Entry position it is about analyzing and procesing important datas.
Responsabilities
Core responsibilities will include, but are not limited to:
Data management, supporting in the collation and analysis of large UK and European environmental data sets for blue chip clients using our inhouse developed software, SIERA.
Supporting the delivery of operational building level environmental and energy audits
Analysis and benchmarking of energy and environmental performance data.
Supporting in the delivery of regulatory and voluntary energy and environmental reporting.
Support the SIERA development team in enhancing the reporting functionality to support both internal and external users and their respective views of data and supporting dashboards.
Support the definition of data requirements and, including documentation of procedures
Use visualization techniques to present data in understandable insightful ways
Conduct investigation and analysis of data to design solutions for projects and/or data system issues

Skills:
A passion for furthering the sustainability agenda
Natural problem solver
Resourceful
Excellent written and oral communication skills with experience / ability to communicate in business english
Highly numerate with strong skills in data manipulation and modelling tools (. Microsoft Excel and use of conditional logic functions such as SUMIF, Pivot Tables, VLookup etc)
Highly talented in handling and analysing data
Critical Thinking to uncover and synthesize connections among related data sets and data series of varying scale and complexity
Ability to work in a structured environment, reporting progress on planned deliverables and activities to line management and wider stakeholders
Performance of core administrative tasks to support data housekeeping
Degree or Masters in related subjectDESIRABLE Skills & Requirements
Second language (German) highly desirable but not essential
Relevant experience – intern or permanent
An broader interest in Information Technology
Experience of using the Microsoft Office Suite to a professional standard
Advanced Excel / Power BI
Experience of developing low/medium SQL queries

Benefits:
Competitive Salary
Flexible hours and the ability to occasionally work from home
20 days of holiday ( year after year will go up with an extra day)
Medical subscription
Social events organized and funded by the company throughout the year
Meal vouchers
POTENTIAM

Potentiam Services is assisting heavily in offshoring for over 15 years and it's now time to make a similar but improved model easily accessible to medium-smaller sized businesses.

The huge benefits of reducing costs, improving cash flow and reinvesting the considerable savings in a growth strategy allowing us to truly outgun the competition. Without 'Smart Resourcing' we would have struggled to achieve any of this. We believe we can play a key role in powering your business.
RL delivers the considerable benefits of 'Smart Resourcing' to businesses of all types. Big business has been inve
Be a part of Potentiam Services SRL, be a part of smart resourcing!

We are committed to protecting the privacy of all of our candidates and clients. Following some recent changes to data protection laws we have updated our Privacy Policy. To view a copy and to help you understand how we collect, use and process your personal data please visit the Privacy page on our website