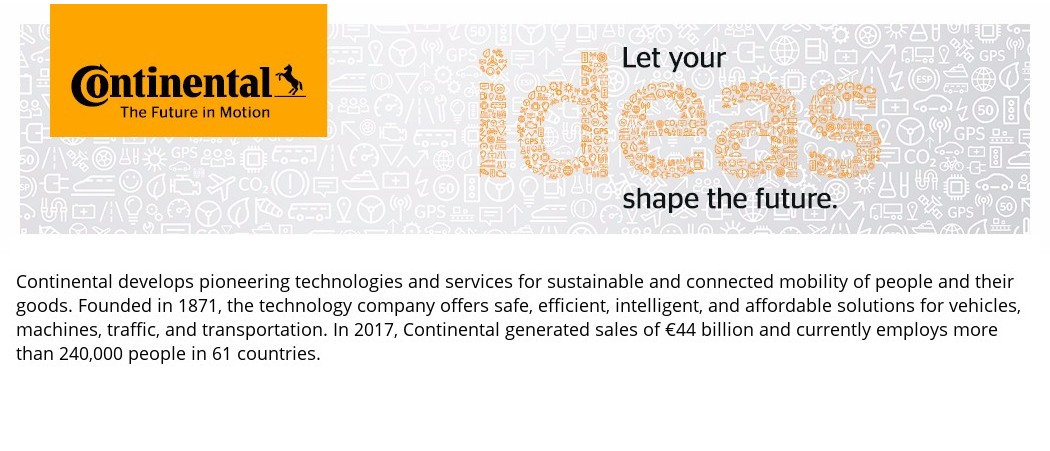 Customer Project Quality Manager - Manufacturing TSR
With sales of €44 billion in, Continental is among the leading automotive suppliers worldwide and currently employs more thanemployees in 61 countries. Information management in and beyond the vehicle is at the very heart of the Interior division. The product portfolio for different types of vehicles includes: instrument clusters, multifunctional and head-up displays, control units, access control and tire-information systems, radios, infotainment systems, input devices, control panels, climate control units, software, cockpits as well as services and solutions for telematics and Intelligent Transportation Systems. The Interior division employs more thanpeople worldwide and generated sales of € billion in 2017.
Job Description:
* Responsible for Complaint Management, Corrective Actions, 8D Report execution in customer portal and CQTS Inform Plant organization about new claims;
* Responsible for Customer Performance Rating, Score Card Monitoring and reporting on the 0-km, field quality and guarantee costs;
* Knowledge of customer specific and general Quality Requirements;
* Warranty Management;
* Processing of extraordinary processes NCCs;
* Negotiations with the customer; -
* Support with failure calculation in the case of new projects (PPM Failure Risk Calculation - 0 KM and field);
* Prevention of Q-problems in the ramp-up phase and during series (support during customer audits, 2 day production and process audit, beging G80);
* Support for all products in series for the assigned customer;
* Supporting and realizing customer audits.
Job Requirements;
* Knowledge of manufacturing and test processes;
* Problem solving and traceability skills;
* Quality analysis and reporting skills;
* Knowledge of FMEA and control plan;
* Knowledge of quality standards ISO, IATF, VDA , VDA , IPC A610 class 3;
* Knowledge of statistics SPC, MSA;
* Experiences in audits;
* MS Office;
* Advanced English knowledge, German is a plus.
Benefits:
* Project based travel opportunities;
* New technologies, new equipment;
* Relocation package for non-Timisoara residents;
* Motivating job contributing to advance automotive technology;
* Excellent career opportunities both in technical and managerial area;
* Competitive salaries.
Ready to drive with Continental? Take the first step and fill in the online application.