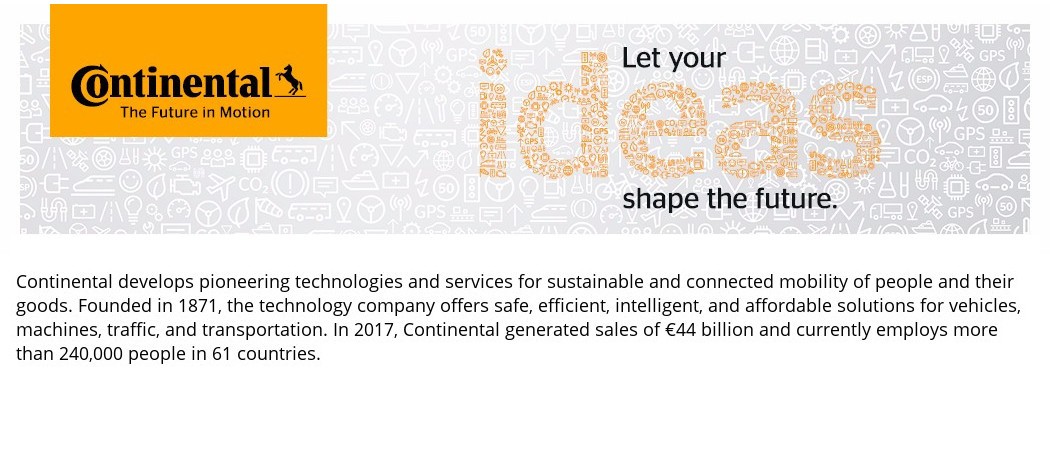 CEOS Rollout & Support Specialist(Iasi)

With sales of €39. 2 billion in, Continental is among the leading automotive suppliers worldwide and currently employs more than 215k employees in 55 countries. The Automotive Group with its three divisions Chassis & Safety (sales of approx. €8. 4 billion in, roughly 40k employees), Powertrain (sales of approx. €7. 1 billion in, roughly 35. 4k employees) and Interior (sales of approx. €8. 2 billion in, roughly 40. 5k employees) achieved sales of approximately €23. 7 billion iThe Automotive Group is present in more than 170 locations worldwide. As a partner to the automotive and commercial vehicle industry, it develops and produces innovative products and systems for a modern automotive future in which cars provide individual mobility and driving pleasure consistent with driving safety, environmental responsibility, and cost-efficiency.
Job description
As a member of our global SRM team you will support the activities and users of the corporate wide procurement system for indirect purchasing at Continental. In this function you are in direct contact to the different user groups and represent the interface to the IT department.
SAP-SRM (CEOS) Support:
- Support for SAP-SRM (focus on Germany and Europe);
- Analysis of service tickets and user calls;
- Definition of appropriate measures incl. tracking and follow-up with IT department;
- Communication with 1st Level Support (central Service Desk, local Key-User) and Users;
- Reporting, monitoring and problem management;
- Creation of user manuals and general process documentation;
- Performance of user, approver, buyer and key-user trainings;
- Performance of system- and process tests.
SAP-SRM (CEOS) Projects:
- Support of global project activities as rollouts, upgrades and system enhancements (analysis, definition, test, training, communication);
- Analysis of local processes and its deviations from standard;
- Implementation of standard processes for indirect purchasing;
- Consulting locations in terms of improvements within the purchasing process.
Requirements:
- University degree in IT, engineering or economics;
- Experience in purchasing and/or SAP (modules MM, SRM) preferred;
- Language skills: business fluent in English, basic German would be a plus;
- Analytical thinking;
- Customer orientation;
- Communication skills, ability to convince others;
- Ability to work under pressure.
Benefits:
- Integration Program in a professional, young & dynamic team;
- Competitive Salaries (based on performance) & Benefits;
- Health & Wellness (Private Health and Life Insurance, Sport activities etc.);
- Professional Development Opportunities (in Technical and Managerial Area);
- Stability;
- International Work Environment & Traveling Opportunities.
Ready to drive with Continental? Take the first step and fill in the online application.