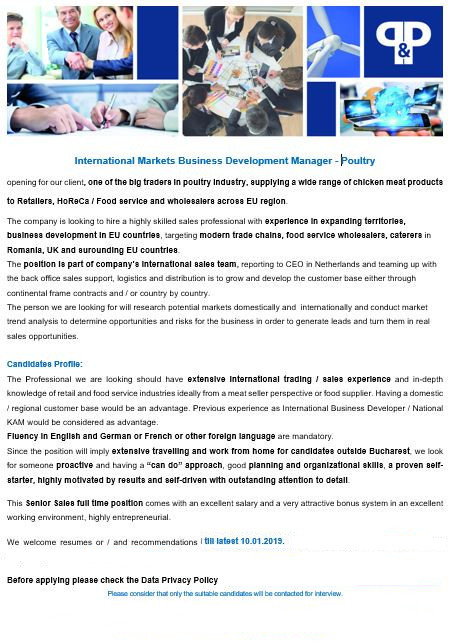 International Markets Business Development Manager - Poultry
opening for our client, one of the big traders in poultry industry, supplying a wide range of chicken meat products to Retailers, HoReCa / Food service and wholesalers across EU region.
The company is looking to hire a highly skilled sales professional with experience in expanding territories, business development in EU countries, targeting modern trade chains, food service wholesalers, caterers in Romania, UK and surounding EU countries.
The position is part of company's international sales team, reporting to CEO in Netherlands and teaming up with the back office sales support, logistics and distribution is to grow and develop the customer base either through continental frame contracts and / or country by country.
The person we are looking for will research potential markets domestically and internationally and conduct market trend analysis to determine opportunities and risks for the business in order to generate leads and turn them in real sales opportunities.
Candidates Profile:
The Professional we are looking should have extensive international trading / sales experience and in-depth knowledge of retail and food service industries ideally from a meat seller perspective or food supplier. Having a domestic / regional customer base would be an advantage. Previous experience as International Business Developer / National KAM would be considered as advantage.
Fluency in English and German or French or other foreign language are mandatory.
Since the position will imply extensive travelling and work from home for candidates outside Bucharest, we look for someone proactive and having a "can do" approach, good planning and organizational skills, a proven self-starter, highly motivated by results and self-driven with outstanding attention to detail.
This Senior Sales full time position comes with an excellent salary and a very attractive bonus system in an excellent working environment, highly entrepreneurial.
Before applying please check the Data Privacy Policy
Please consider that only the suitable candidates will be contacted for interview.