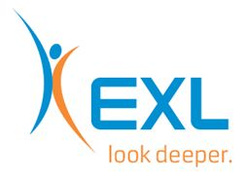 Jelentkezés a munkáltatóhoz
Válaszd ki a részleget ahol dolgozni szeretnél


EXL (NASDAQ: EXLS) is a leading
business process solutions company that looks deeper to drive business impact
through integrated services and industry knowledge. EXL provides operations
management, decision analytics and technology platforms to organizations across
multiple industries including insurance, banking, financial services,
utilities, transportation and travel. We customize our solutions to improve
business performance, transform organizations to be fast leaners and more
flexible and provide a competitive edge in the marketplace. EXL leverages its
highly qualified and experienced professionals at its offshore, near-shore and
onshore to address the clients' present challenges and deliver them immediate
business impact and long term financial value.

EXL was incorporated in 1999 and has its headquarters based in New York City.
Ever since then, the Company operates more than 18 delivery centers in India,
the Philippines, Malaysia, USA, and also in Czech Republic, Romania, Bulgaria.
EXL also holds sales offices in New York, New Jersey and London.