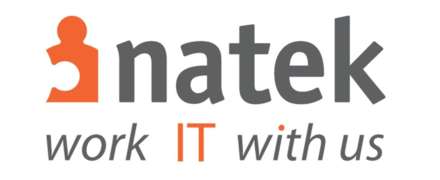 Senior Java Developer
Niveau de carrière
Expérimenté (5-10 ans), Cadre (>10 ans)
Nous recrutons des candidats ouverts à la réinstallation
Oui
Salaire brut / mois
2500 - 3800 €
If you believe that outsourcing business is essential nowadays;

If you are interested in IT innovations;

If you think you could fit good in a dynamic environment (such as ours);

If you are tempted to work in an international company with a lot of opportunities abroad;

Well, then we share common interests and we will be glad to Work IT with you...


COMPANY DESCRIPTION:

NATEK is a leading provider of IT Outsourcing and Consulting Services in CEE (Central and Eastern Europe). Established in 2004 inCzechRepublic, NATEK has created a global organization in Central Europe in order to develop long-term partnerships with prestigious international companies by providingcompleterange of services as professional services,Near shoringand platform service
With currently more than 600 employees, NATEK delivers service infollowingcountries: Bulgaria, Czech Republic, PolandandSlovakia. With the objective to staff more than 200 IT specialists in the next 12 months, NATEK thus becomes one of the most sought-after companies specialized in IT outsourcing in Central and Eastern Europe.


OUR PARTNER

It is the leader in virtualization and cloud infrastructure solutions that enable more thaenterprise and SMB customers to thrive in the Cloud Era by simplifying, automating and transforming the way they build, deliver and consume
Theposition is full time and is based in the Bulgarian office.


YOUR EVERY DAY RESPONSIBILITIES WILL INCLUDE:
DevelopingPaaS/SaaS system and bring greater agility of the platform
Expanding the capabilities and supporting the R&D function
Using Java related cutting-edge technologies and a chance to develop software in the private cloud
Mentoring and coaching newcomers in the future, when the team gets expanded
Working collaboratively with IT geeks in Bulgaria and abroad

MAIN REQUIREMENTS
5+ years of experience with software development with Java
Experience with Spring and Spring Boot is a must
Excellent knowledge of any RDBMS and SQL
Higher degree in IT. Computer Engineering or Informatics is preferred
Knowledge of micro-services development
Excellent communicational skills in English (written & spoken)
Excellent analytical thinking and passion for newcloud relatedtechnologies
Knowledge of NoSQL will be an advantage
Experience with SaaS/PaaS will be great if you have it
Experience with messaging platforms is a plus (preferably RabbitMQ)

OUR OFFER INCLUDES:
Attractive salary referring to your skills and experience;
Private health care;
Multisport or Compliment card;
Food vouchers;
Transparent recruitment process with our full support (coaching, consulting, clear feedback);
Relocation bonus and assistance;
Work with cutting-edge technologies;
Innovative projects for the biggest worldwide brands;
Support for professional career growth by matching your skills and plans with suitable projects;
Possibility to work in other NATEK European branches;
Social events.