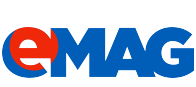 IT Support Technician (Helpdesk Team)
Niveau de carrière
Débutant (0-2 ans), Intermédiaire (2-5 ans)
We are looking for an IT Support Technician to join our IT Helpdesk Team and be responsible for providing internal IT first level support in areas such as software applications, software, hardware, networking and telecommunication.
As an IT Support Technician you will interact with all users within different departments and collaborate closely with IT Infrastructure and Software Development departments.

Responsibilities:
Troubleshoot issues related to IT (hardware, software, network, VoIP, printing);
Monitor support requests using the internal ticketing application;
Following up incidents to their resolution;
Monitor proper functioning of equipment and works in preventing problems;
Provide maintenance and keep evidence of IT equipment from all eMAG locations;
Manage user accounts and rights/levels of access to internal applications;
Server Maintenance (Antivirus, WSUS, SCCM, etc..).
Requirements:
Positive attitude oriented towards identifying solutions and solving problems;
Ability to assimilate new knowledge;
Microsoft Windows, Microsoft Office suite, e-mail protocols and hardware components knowledge (mid-level);
Basic knowledge of networking and remote desktop tool;
Microsoft Active Directory & Windows Domanin;
Basic knowledge in: SCCM, WDS, WSUS;
Not mandatory but would make a difference: Office 365 and PowerShell.
Benefits
We know benefits are important, that's why we provide you with a full range of them. We provide you with the best development programs to improve both your soft and job specific skills, but it is you who decides what you want to learn and where you want to go.
The possibilities are endless and because we like to share, at the beginning of you journey in eMAG we offer you a free course of e-commerce, just to put you up to speed. :)