Nivel profesional
Medio (de 2 a 5 años)
Idiomas hablados
inglés, francés
Dirección(es) del trabajo
Salario bruto al mes
20000 - 26000 €
---
Location: Valencia, Spain
Position: Service Desk Analyst
Category: Consultant
Duration: Initial 6 months, renewable depending on performance and work volume
United-ITs is looking for a Service Desk Analyst for one of its clients in the United Nations. The International Computing Centre (ICC) was created in 1971 as an inter-organization facility to provide electronic data processing services for organizations within the United Nations system. The objectives of the Centre, as stated by its mandate, are to provide information and communication technology (ICT) services (including training) on an inter-organizational basis.
The successful candidate will provide on-going support to ICC Service Desk Analyst and related services and will participate in the automation projects and tasks for ICC and Partners.
The candidate will:
Logging support requests and event generated incidents in the CRM system.
Analyzing and resolving incidents according to established operational procedures.
Escalating incidents when necessary and identifying and employing measures to prevent reoccurrence.
Monitoring of the ICT infrastructure through the use of various monitoring technologies.
Informing customers of outages, known errors and resolution progress.
Assisting in developing or improving technical service policies or technical documentation;
Assisting in updating the technical information database, the Service Desk knowledge base,
Service Desk workflow and procedures.
Producing technical Documentation or User Manuals as required.
Providing assistance to the Change Manager or the CMDB owner for the coordination of changes and update of the CMDB.
Performing other duties as required.
Knowledge and skills
Excellent telephone manners, interpersonal skills and ability to work under pressure with minimum supervision.
Good knowledge, at a level of providing Tier 1 support1 to users, of at least one of the following:
Virtual Infrastructure, AD Services, MS SharePoint, MS SQL Server.
Good knowledge, at a level of providing tier 1 support to users, of at least one of the following:
LDAP, ITSM, Windows, SCOM, MS Exchange, basic network troubleshooting.
Knowledge of incident and request fulfilment service management tools and software.
Desirable
ITIL certification
Knowledge of IT event management and monitoring software.
Knowledge in disaster recovery and data protection software.
1 Application of solutions to known errors or service requests which are documented through SOPs.
Knowledge of scripting for monitoring and task automation.
Education
Graduation from secondary school supplemented by training in IT.
Desirable
Microsoft, Cisco, Linux or VMware certification.
ITIL certification.
Experience
At least four (4) years of experience in information technology or related area, including at least one year (1) in working in a Service Desk environment, supporting end users and other technical teams.
Experience in drafting technical and user documents.
Desirable
Experience in Infrastructure monitoring.
Experience in training end users and coaching colleagues.
Languages
Expert knowledge of English language is required (written and verbal).
Knowledge of French language is desirable.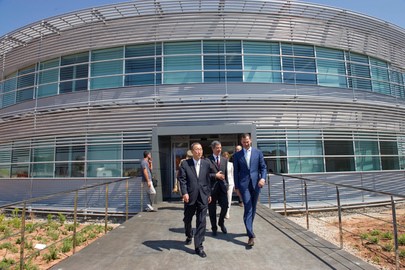 ---
Entrevista en línea
What is your salary expectation for this position?
Do you agree to relocate to Valencia, Spain if selected?
How soon you will be available to start after you would be selected?
---