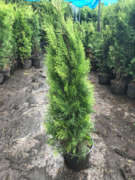 Workers for planting
Career level
Entry (0-2 years), Middle (2-5 years), Senior (5-10 years)
Gross approximate salary / month in euro
1700 €
The biggest and most reliable company in Sweden for gardens and hedges - Our market is growing and we need to find 2-6 more drivers.
We recruit Category C drivers now for the seasonMars until Nov.
lso recruit crew for our nursery, unloading, loading etc
Please send your CV to ny questions just let us know and we get back to you asap.
You must be in the age 24-55 and in good physic condidtion, postive and problemsolver.
We offert you swedish sellery, social insurance, accomodation here. You can work in diffenernt shift ex 4w on 2 weeks off etc
English in any level is big +, experince at least 3-5 years of Heavy trucks FM7 and city inviormentdriving.