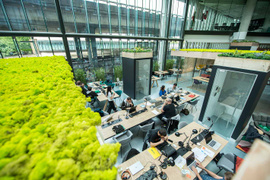 Team Lead Back End Engineer
Looking for Premium Talent
Career level
Middle (2-5 years), Senior (5-10 years)
Employment type
Full time
Spoken languages
English - Advanced
This position is based in our offices in Iasi, Romania and will report to a UK based company that is an exciting and fast-growing company offering a learning product that delivers world-class interactive digital marketing training. Specializing in digital media & marketing they combine this with an unconventional learning experience, which is both educational & entertaining. They are a vibrant and rapidly growing business – and they want you!
Key Responsibilities:
Proactively keep abreast of industry developments, skills and technologies and share information, ideas and best practice with development team members to improve software quality
Demonstrate a logical and structured approach to people management and task prioritisation with minimum guidance
Strong leadership skills that align with the development of colleagues
Create & maintains strong working relationships with members of the delivery team and wider business so that the overall function operates optimally.

Education, experience and skills required:
Experience with distributed systems
Proven experience with at least 1 PHP MVC framework
Experience writing modern OO and/or functional programming
Strong knowledge of Cloud patterns
Experience working with concurrency (threads, deadlock, starvation, consistency, coherence) - Networking (IPC, TCP/IP)
Understanding of Availability and Reliability considerations, Real-world performance, CAP theorem
Engage in architectural discussions and driving engineering practices towards excellence
Experience working with an agile development team (SCRUM, Kanban etc)
Experience working with MicroServices type of architecture
Fluent in developing on a Linux/Mac-based environment
Good knowledge of design patterns
Experience working different databases and data storages
Experience with API design
Exposure to Docker and Infrastructure as a service (IaaS)
Strong written ability and excellent communication skills
Additional advantageous knowledge and skills:
3+ yrs people management experience
Experience with at least one other programming language
Experience in SaaS Product development
Exposure to DDD would be a big plus
Passion for Edtech
Benefits:
Competitive Salary
Flexible hours and the ability to occasionally work from home
20 days of holiday ( year after year will go up with an extra day)
Medical subscription
Social events organized and funded by the company throughout the year
Meal vouchers
POTENTIAM

Potentiam delivers the considerable benefits of 'Smart Resourcing' to businesses of all types. Big business has been investing heavily in 'outsourcing' for over 15 years and it's now time to make a similar but improved model easily accessible to medium-smaller sized businesses.

The huge benefits of reducing costs, improving cash flow and reinvesting the considerable savings in a growth strategy allowing us to truly outgun the competition. Without 'Smart Resourcing' we would have struggled to achieve any of this. We believe we can play a key role in powering your business.

Be a part of Potentiam Services. Srl, be a part of smart resourcing!

We are committed to protecting the privacy of all of our candidates and clients. Following some recent changes to data protection laws we have updated our Privacy Policy. To view a copy and to help you understand how we collect, use and process your personal data please visit the Privacy page on our website