System Security & Privacy Engineer for ADAS (Iasi)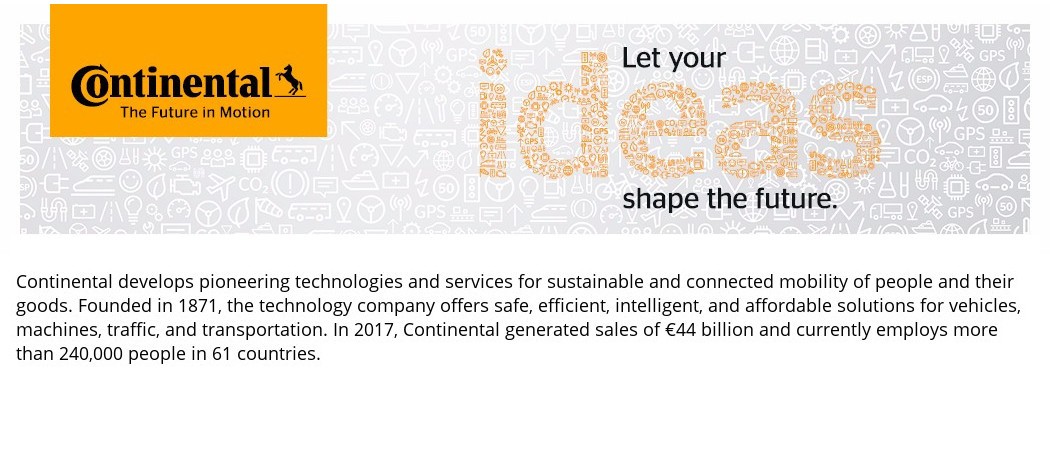 We have excellent news to share. The Security & Privacy Engineer position is now open in the Chassis and Safety Division in Iasi.

Within Chassis & Safety Division, your engineering skills can make a difference in the development of exciting new automotive products and technologies. Chassis and Safety Division in Iasi enriches the Continental Automotive research and development activity over three main branches:

- Systems and Technology, where tomorrow's Chassis and Safety products are envisioned and integrated into highly automated vehicle driving functionalities
- Vehicle Dynamics Business Unit, where highly advanced braking technologies are provided for all vehicle types, usable in vehicle ranging from small cars right to transportation vehicles
- Advanced Driver Assistance Systems, which develops both sensors (from simple ultrasonic parking sensors to radars and advanced stereo or surround view cameras) and computation platforms for running safety, maneuvering and cruising functionalities.


As a Security & Privacy Engineer you will have thrilling opportunities, including the chance:

- To boost your professional career in the automotive industry among us
- To share your knowledge in IT security
- To learn together with us how to engineer a secure embedded system
- To actively define the new standard ISO SAE 21434 for cybersecurity of road vehicles
- To understand & align with the emerging automotive security & privacy regulations
- To help us develop innovative products
- To join our worldwide community of key experts in the area
- To interact directly with the most known OEMs in the business.


You will be responsible for:

- Threat modelling, conducting security analysis & risk assessment
- Creating the Security plan and aligning to the overall project plan
- Specifying security requirements
- Suggesting secure design principles & patterns for embedded systems architectures
- Conducting secure data storage & deletion
- Reviewing and aligning the data security work products
- Constructing clear and comprehensible security arguments
- Liaising with engineering team
- Reporting the status of the activities to your direct manager


We want to help you in your technical journey - a mentor will support you to gradually take over own responsibility. We will also offer an initial training which will help you get familiarized with our products, tools, processes and organization.
Job Requirements
Do you have the following educational background and knowledge?

- Educated to a Bachelor level in an engineering field of relevance (. Electronics, Electrical Engineering, Automatic Control, Computer Science)
- Knowledge of IT systems & network architectures, as well as knowledge of functional and technical interrelations
- Deep understanding of network LAN/WNA concepts like TCP/IP, VLAN routing, NAT, PAT
- Understanding of packet filtering and analysis at network and endpoint level
- Familiar with Information Security
- Experience and hands-on knowledge with Intrusion detection/prevention systems (IDS/IPS)
- Familiar with formal and structured analysis of the IT systems security (. threat modeling, vulnerability scanning, penetration testing)

Do the following personality traits, skills and work style describe you accurately?

- Analytical skills and a structured manner of work
- Strong drive and an enthusiastic attitude
- Excellent teammate always willing to give a helping hand
- Attention to detail
- Confidence in communication to internal or external customers
- Excellent command of English language
- Willingness to go on business trips abroad

Do you also have additional knowledge about the following?

- Embedded systems including HW and SW
- Linux based OS
- Moderation and presentation

Then you could be the future for us, as we are committed to hiring the best.



What we offer
• Competitive Salaries (based on performance) & Benefits;
• Health & Wellness (Life Assurance, Private Health and Dental Insurance, Sport activities etc.);
• Integration Program in a professional, young & dynamic team;
• A mentor for the integration period
• Professional Development Opportunities (in Technical and Managerial Area);
• Stability;
• International Work Environment & Traveling Opportunities;
• Relocation Package for non-Iasi Residents.
Ready to drive with Continental? Take the first step and fill in the online application.