Job details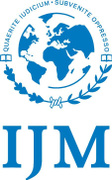 Survivor Support & Security Liaison Responsible
Career level
Middle (2-5 years), Senior (5-10 years)
Employment type
Full time
Spoken languages
English
- Advanced
, Romanian
- Native
* all languages are compulsory
Hiring candidates willing to relocate
Yes
Who we are:
IJM works to end modern day slavery, human trafficking, and other forms of violence against people living in poverty. We are a global team of lawyers, social workers, community activists and other professionals in 33 offices across 23 countries. We have a big vision – to protect half a billion and make justice for people in poverty unstoppable.
Position Overview:
The Survivor Support and Security Liaison Representative (SSSLR) is responsible for supporting the survivor services and security teams with survivor interactions of human trafficking.
The SSSLR will be responsible for escorting staff and survivors both within Romania and internationally as directed by Country Director and Investigations and Security Lead.
The SSSLR will have an in-depth knowledge and engage with victims to help assess their needs, develop
security assessments and be able to implement crisis intervention tools to engage victims in a trauma informed manner.
The SSSLR will be an experienced driver able to drive vehicles within Romania and in other European countries.
The SSSLR will work with the security team and support the team with security and survivor focus.
The SSSLR will support the Romania National Office Security Plan development with support from the Safety and Security Focal Point.
The SSSLR works in close collaboration with the Safety and Security and the Service Survivors teams of Romania and to counterparts across the globe.
Key Result Areas (KRA):
The success of this role is measured by the following KRAs:
Deliver survivor services with trauma informed approach.
Identify and locate survivors of trafficking that are in need of services and ensure trauma appropriate engagements.
IJM Operational Staff and clients follow and adhere to operational security protocols.
IJM Operational Staff delivers secure, good quality and in a timely manner assistance service to survivors.
Clients trust IJM and remain engaged with police and prosecutors throughout the criminal adjudicative process.
Ability of the SSSR to maintain the continuity of care for survivors within the IJM Romania. operations, within Romania and on cross border trips to other countries. Ability to conduct trip risk assessments and present risk score and findings to the rest of the team.
Ability to always maintain an operationally ready vehicle which will result in minimum disruptions to operations because of vehicles not being roadworthy.
Ability to maintain a cohesive relationship with the IJM Romania team/survivors/ partners.
Roles and Responsibilities:
Working in partnership with the service survivors and security teams in interacting with vulnerable victims of trafficking and other NGOs and relevant partners.
Engaging with victims in a trauma-informed manner when accompanying them for social, legal and law enforcement proceedings.
Assess the risks of victims and complete any required actions in accordance with the service procedures and policies.
Identify multiple venues/ locations for IJM/Survivor meetings, conduct risk assessments and security plan for each venue.
Maintain security communications equipment.
Assist the service survivor team in implementing victim service survivor plans.
Provide weekly updates to supervisors.
Develop operational risks assessment and create and execute tactical plan for moving the client as necessary.
Supervisor:
The SSSLR reports to Investigations and Security Lead.
Education & Experience:
Experience working with law enforcement, NGOs or witness protection and ability to sensitively engage with both female, male, and minor victims of trafficking.
Qualification in the field of victim counselling/assistance or professional experience in this area is preferred.
Social Worker qualification preferred.
Qualification in the field of law enforcement, security and proven professional experience in this area is preferred.
Resilience and ability to work on emotionally challenging issues and with traumatized individuals.
Ability to work under stress and pressure while maintaining a sustained positive attitude.
Spoken and written fluency in Romanian and English required.
Valid Romanian driver's license, international license preferred.
Experienced computer-user proficient in Microsoft Office.
Experience of working with people in crisis situations.
Knowledge and understanding of risk assessment/ risk management
Technical Competencies:
Ability to deal sensitively with victims, using a trauma-informed approach.
Excellent communication skills, ability to attract others in executing tasks.
Ability to create and conduct good operational risks assessment as well as tactical plans and to deliver mission briefs
Excellent driving capabilities as well as proven expertise in Crisis Prevention and Intervention
Sound knowledge of CPR and First Aid Maneuvers.
Excellent writing, documentation and reporting skills, including the ability to maintain digital records and generate high-quality written reports.
Non-Technical Competencies:
Team player and team oriented across multi-disciplinary teams
Demonstrates servant leadership and the values of IJM
High levels of self-motivation and personal initiative
History of building effective intra-organizational alliances
Creative and energetic problem solver
Extremely high levels of honesty and integrity
Ability to work well under stress and deadline pressures with a sustained positive attitude
Attention to detail; organized and disciplined with priorities
Passionate to combat human trafficking, rescue victims and hold offenders accountable
Ability to cope with material or situations that may be of an explicit or distressing nature
Requirements:
Full-time, willingness to work 40+ hours per week
Ability to travel within Romania and Europe, up to 30% of the time
Other Duties:
This job description is not designed to cover or contain a comprehensive list of activities, duties, or responsibilities for the position. Duties, responsibilities, and activities may change at any time with or without notice. All positions are required to perform any additional tasks assigned by the supervisor. Please submit a cover letter indicating why you are interested in the position along with a current CV to . Remuneration will be competitive and commensurate with experience. Applications will be received on a rolling basis and until the position is filled. It is anticipated that initial short lists will be developed within two weeks of publishing this notice. The advertisement will remain open until the position is filled.