Supplier Quality Management Electronics Engineer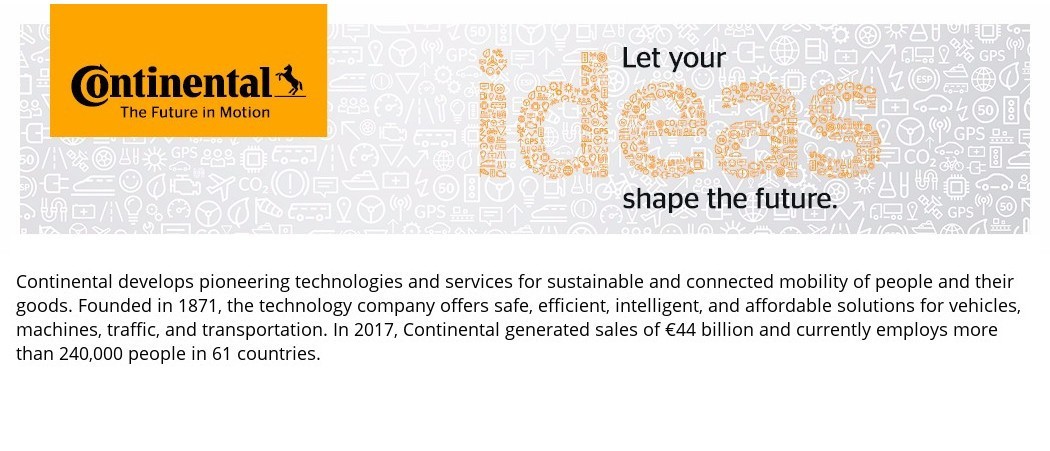 Job Description
For our Location Iasi we search for dynamic and motivated people to join our Supplier Quality Management (SQM) department.
Primary purpose of this position is to use primarily preventive Quality Methods and tools in supplier and component selection, qualification relative to current quality and reliability standards of components, support of best-in-class sourcing of parts and managing the assigned supplier and category of parts in terms of Quality KPIs.

To assure the quality of the supplied components we audit current and future suppliers of electronic components worldwide to the highest automotive standards, track their quality performance and initiate and lead quality assurance projects.
We participate together with the electronics development in the selection of new suppliers for electronic components and we qualify the sourced components in compliance with Continental Quality and Reliability standards.
New processes and technologies of our supplier base are released by our team with respect to their quality and capability before being permitted to be used in our production.
We maintain the specifications, release documentation and change requests of the worldwide purchased electronic components in the respective database. In the case of quality events we participate in the failure analysis and problem solving teams.


Tasks:

•Support sourcing process to select best-in-class components and suppliers;
•Perform the electronic component qualification activities based on the APQP process and in compliance with Continental Quality and Reliability standards;
•Support the consequent supplier management activities to track any quality deviations (zero tolerance for defects) including support of quality incident escalations from our Plant SQM and Business Units;
•Drive supplier improvement programs;
•Conduct VDA Audits at the supplier;
•Use and support the data systems to collect and evaluate electronic components data and supplier quality related key performance indicators (KPI's), issue periodical quality performance reports and ensure that appropriate improvement actions are initiated;
•Support of Change Management (PCN – Product Change Notifications) for assigned categories and suppliers.
Requirements:

•Bachelor in Electronics/ Electrics, Physics;
•Good knowledge of electronic components, semiconductor manufacturing experience of is a plus;
•Auditor experience with VDA is a plus;
•Advanced English;
•Good level of MS Office;
•Willingness to travel internationally.
Benefits:

• Integration Program in a professional, young & dynamic team;
• Competitive Salaries (based on performance) & Benefits;
• Health & Wellness (Private Health and Life Insurance, Sport activities etc.);
• Professional Development Opportunities (in Technical and Managerial Area);
• Stability;
• International Work Environment & Traveling Opportunities.
Ready to drive with Continental? Take the first step and fill in the online application.