Spares Parts Service Representative
Career level
Middle (2-5 years)
Gross approximate salary / month in euro
100 €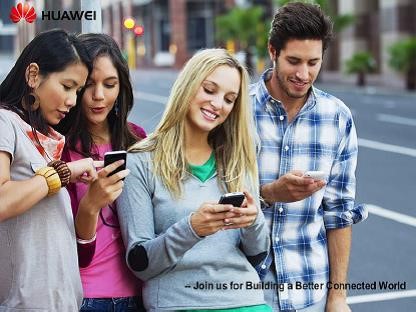 Huawei is a leading global information and communications technology (ICT) solutions provider.
Driven by a commitment to sound operations, ongoing innovation, and open collaboration, we have established a competitive ICT portfolio of end-to-end solutions in telecom and enterprise networks, devices, and cloud technology and services. Our ICT solutions, products, and services are used in more than 170 countries and regions, serving over one-third of the world's population. With employees, Huawei is committed to enabling the future information society, and building a Better Connected World. We invest over 10% of our annual sales revenue into R&D and more than 45% of our employees engage in R&D.
Leveraging our experience and expertise in the ICT sector, we help bridge the digital divide and promote high-quality broadband connectivity for all. As an advocate of socioeconomic sustainability, we make every effort to support secure and stable network operations, and help customers and industries improve efficiency to drive low-carbon economic growth. By localizing our operations and building a global value chain, we help local innovators maximize their global value and share win-win outcomes.
Anywhere you are, Huawei is there. Join us for Building a Better Connected World.
Job description:

Handle the spare parts service application requested by customer and engineers, and deliver this service in time
Follow the service process and trace the logistics status until the service is fulfilled
Assure the Huawei spare parts system is updated with outbound and inbound operation by LSP (logical service provider) based on delivery records;
Keep clear records of all inbound & outbound parts, coordinate stocktaking every quarter to assure account accuracy;
Arrange with customer and engineers to return fault parts back in time;
Provide feedback at request based on the weekly/monthly activity of delivery.
Assure the KPIs ( Key Points of Interest) are achieved and fallow all activities until end.
Assist local Spare part manager to finalize the service parts operation process, warehouse management and account system, assure the smooth logistics channel and prompt parts delivery and return for repair.
Arrange the domestics and international logistics for the spare parts service in Europe region.
Job Requirements:
Educational background: bachelor degree and Major: Logistics Management, Enterprise Management, International Business and Economics related major, or Telecommunication, Computer and Electronics specialty.
Work experience: 1 year in logistics management or warehouse management
Good English level (must)
Good communication ability (must)
Strong responsibility and goal-oriented (must)
High attention to details (must)
Similar working experience is preferred. (better)
Good skill in Excel of Microsoft office is necessary. (must)
Understand telecommunication product technology.(better)
Be familiar with spare parts business process and asset management.(better)
Possess international trade and law knowledge, tax & economic laws etc.(better)
Work Place: Bucharest. Sometimes the business travel is required to other countries in Europe