Software Developer for Automotive - TSR
Career level
Entry (0-2 years), Middle (2-5 years), Senior (5-10 years)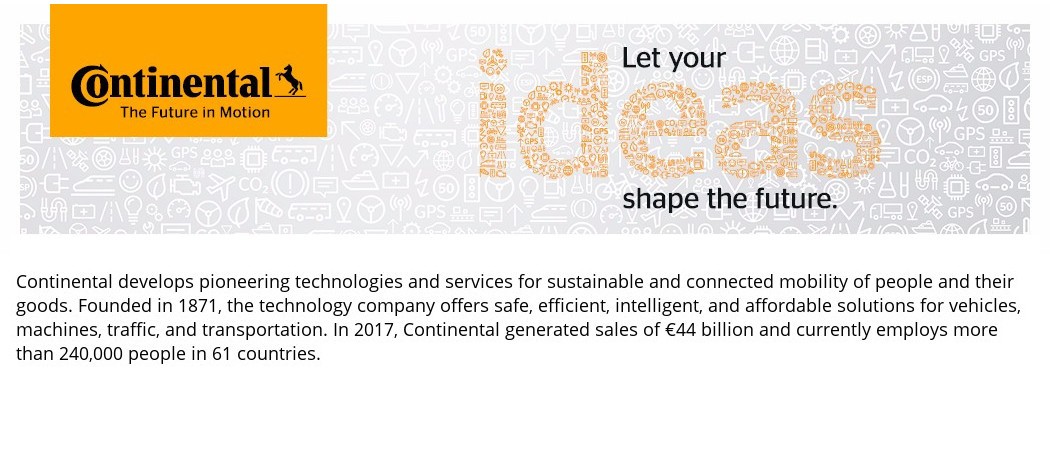 Software Developer for Continental Automotive - TSR
Job Description:
To ensure its leading position as supplier for Automotive Industry, our company is using state of the art techniques in Software

We are a young and dynamic team with one simple target:
provide the best software engineering solutio

We develop software within a project team for embedded systems according to the processes and methods of the automotive

As Software Developer you should be able to:
analyze and understand customer requirements;
generate software solutions;
code, then test on PC and on the microcontroller target system;
deliver the solution to the project for integration;

Most of the software development is done in ANSI C, but also C++, Java.
Model based development is done in Matlab/

In order to be better prepared for the selection process,
you can access the documentation recommended for these jobs. Click

A mentor will support you to stepwise take over own responsibility after an initial training phase which will familiarize you with our products, tools, processes and

Also you will have the chance to:
develop your technical skills;
deal with the latest automotive technologies and products that haven't been released on the market yet;
work on worldwide projects with colleagues that have different cultural backgrounds.
Job Requirements:
University Degree in a relevant field (Computer Science, Electronics and Telecommunication, Informatics etc.);
Good programming skills in one of the following programming languages : ANSI C, C++, Java, Matlab/Simulink;
Microcontrollers knowledge (is required for embedded development);
Electronics understanding (using measurement equipment);
Embedded systems knowledge and experience in the automotive industry is a plus;
Fluency in English;
Soft skills: result orientation, good communication skills, ability to analyze and organize, team player.
What we offer:
Integration Program in a professional, young & dynamic team;
Competitive Salaries (based on performance) & Benefits;
Health & Wellness (Private Health and Life Insurance, Sport activities etc.);
Professional Development Opportunities (in Technical and Managerial Area);
Stability;
International Work Environment & Traveling Opportunities;
Relocation Package for non-Timisoara Residents;
Flexibility Program including flexible hours, mobile work, and sabbaticals.
Let your ideas shape the future. Take the first step and fill in the online application.