Job details
INACTIVE AD:
The employer is not currently actively recruiting for this position, but you can apply for the ad.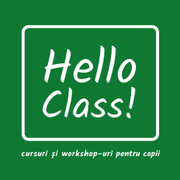 Profesor limba engleza / English Teacher
Career level
Entry (0-2 years), Middle (2-5 years), Senior (5-10 years)
Employment type
Full time, Part time
Spoken languages
English
- Advanced
* all languages are compulsory
Centrul Hello Class! angajează profesor de limba engleză pentru a desfășura cursuri în limba engleză cu copii preșcolari și școlari, grupe restranse de 4-6 copii.
Cerinte:
studii de specialitate (facultate de limbi străine; liceul pedagogic sau modulul psiho-pedagogic)
aptitudini pedagogice, răbdare, tact și pasiune pentru activitatea pedagogică
persoană dedicată lucrului cu copiii, care sa includă în susținerea cursurilor activități interactive precum proiecte, jocuri, ateliere de creație, dezbateri, etc.
experiență în predarea limbii engleze și pregătirea copiilor pentru examenele Cambridge, putând fi însă substituită de disponibilitatea și determinarea de a urma un training intensiv în cadrul centrului nostru
Beneficii:
cursurile centrului nostru permit vacanțe pe perioada iernii, primăverii și verii
venit lunar constant, contract de muncă, inclusiv pe perioada vacanțelor scolare
training constant și acces la o bază vastă de materiale, atât pentru cursurile în clasă cât și cele online
suport în organizarea celor mai potrivite activități, adaptate fiecărui grup de copii
condiții de lucru excelente, mediu relaxant si prietenos
Online interview
Have you ever taught English to preschoolers?
How would you describe your teaching style?
How would you describe your ideal job?