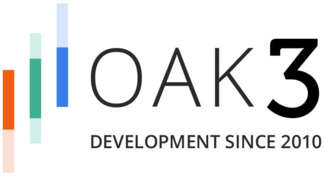 Marketing Manager (#online marketing experience)
Career level
Middle (2-5 years), Senior (5-10 years)
Spoken languages
English - advanced, Romanian - advanced
* all languages are compulsory
We don't hire people, we welcome them to our team!

Oak3 (Busteco Global Brain) is focused on delivering high-impact end-to-end eCommerce solutions. We are an efficient team of disciplined, experienced developers with a multitude of concrete capabilities such as UI and Front-End development, Warehouse Management systems and high-end mobile development to name a few. The web agency specialized in design, development and online marketing has over 6 years experience on the local and international market and has collaborated with well-known brands in the US, Australia and UK.


Who we're looking for:
We are searching for a self-motivated Marketing Manager with plenty of eCommerce industry experience, a keen eye for detail and a knack for creative campaigns.

What you'll do:
Working alongside our Senior Project Managers, developers and designers, the role involves both brand and client-project management.

Main Tasks:
Developing and implementing online content marketing strategies for the brand and its clients
Estimating project budgets and pacing budgets to achieve campaign goals
Campaign setup and management
Creative content and copywriting for both the brand and its clients
Event management, including event resource management and representing the brand at conferences and various events
Internal knowledge-base management according to established best practices
Client communication whenever necessary
Campaign assessments and reporting
Aiding with internal tool adoption and creating corresponding internal documentation

Desired Skills:
Ability to work effectively with minimal supervision
Excellent command of English (C2)
Takes initiatives and has the ability to plan and follow-through independently
Excellent interpersonal and communication skills
Demonstrates strong organizational skills and is able to effectively plan and implement marketing strategies with varying degrees of team involvement
Highly adaptable and able to balance strategy and delivery

Expertise:
Past experience in a digital marketing role
Has successfully conceptualized, planned, executed and measured the results of online advertising campaigns
Past experience in running social media PPC campaigns, including but not limited to Facebook, Twitter, LinkedIn, Pinterest
Has relevant copywriting experience (work samples are an advantage)
Optional: AdWords PPC certification

We offer:
Attractive salary
Amazing people to work with
The opportunity to create and to get involved in interesting and appealing projects.
Work-life balance

Our mission is to develop outstanding projects, to maintain our very high level of client satisfaction and last but not least, to enhance our friendly and professional team environment.
If you believe that this sounds like you, then do not hesitate to apply directly!