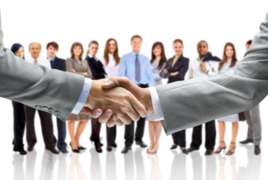 IT Systems administrator
Career level
Middle (2-5 years), Senior (5-10 years)
Spoken languages
English
* all languages are compulsory
International company is seeking for an enthusiastic and hard working person to join a small team of professionals offering excellent services to a group of companies.

You will have the opportunity to work in a very dynamic business environment and be involved in interesting projects, challenging you to grow and expand your skills.

We are searching for a sharp minded person, a self starter who gets things done with little supervision.

Minimum requirements:

• Comfortable with Linux Centos environment.
• Good experience with resource monitoring and optimization.
• Good experience in installing, maintaining, preparing and migrate systems and applications.
• Good understanding and relevant experience with commonly-used services, protocols and platforms:
Web: HTTP, HTTPS running on Apache and Ngnix servers.
Email: SMTP, SMTPS, IMAPS running on Postfix server, Outlook and Thunderbird clients.
Database: MySQL/MSSQL Server administration – basic level.
Monitoring: Nagios, Cacti.
Others: Basic understanding of how DNS, TCP, UDP protocols work, pros and cons.
Periodic backup and recovery tests.
• Basic understanding of IP Routing and NAT-ing.
• Windows serverknowledge of GPO
• The candidate must have a good command in English, spoken and written, in order to be able to work in a multinational environment.
• Team work.

Nice to have:

• Experience with Linux Docker containers represents a major advantage.
• Experience with virtualization technologies.
• Experience with iptables rules and chains.
• Basic scripting skills with one of the following: bash, perl, python.
• CISCO networking skills.
• Basic understanding on how Windows Servers work and the benefits.

Main Responsibilities:

• Work within a multinational team and support the IT staff with Linux administration.
• On-site technical support for a branch office
Install, maintain, administer, maintain inventory, keep a professional and secure environment for workstations, printers, scanners, mobile phones and Servers (Linux, Windows, Android, iOS).
• Perform backup and recovery.
• Follow the procedures, guidelines and best practices within the Group.

Offer:

Competitive financial offer;
Different incentives: refreshments the office, parties;
Chance to work with international professionals;
Young and dynamic working environment.