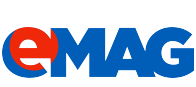 Tech Sourcer
Career level
Middle (2-5 years), Entry (0-2 years)
On the eMAG Tech recruitment team, we`re looking for a Tech Sourcer!
We provide all of the tools and resources for you to pave your career as you see fit. There is unlimited access to Hiring Managers, Hiring Team Members, Recruiting Team Members, as well as all other business units (Platforms, Technology and Infrastructure, eMAG Fashion Days) to help foster great relationships with your candidates and our Hiring Teams. Our goal is to empower you to be as successful as possible while providing a great candidate experience at all times.
In this role you will drive critical efforts to deliver against aggressive headcount goals, partnering with various peer groups and hiring managers to effectively leverage process, programs, strategic sourcing and technology to drive improvement and efficiency.
Responsibilities
Sourcing Specialist will be responsible ofhe sourcing process from entry level to management level positions in the Information Technology industry;
Build extensive pipeline by identifying potential candidates through web sourcing, networking, leveraging group research, candidate referrals and other creative ways to fill the candidate pipeline;
Use a variety of online recruitment tools and applicant tracking systems (Taleo experience is a plus, but not mandatory);
Call, screen and sell prospective candidates on taking the first step toward discovering their career with eMAG;
Regular follow up with the respective recruiters, hiring managers and candidates to ensure timeliness of recruitment process;
Engage in weekly meeting with Hiring Teams and Recruiting Team to identify trends within the market, strategize on outreach approaches, brainstorm innovative search methods and search strings
Develop strong relationships and partner with Senior Recruiters;
Actively participate in developing best practices amongst the Hiring Team and Recruiting Team (New ideas and approaches are more than welcomed!).
We expect you to
Take positive steps to support and promote the recruitment, retention and development programs;
Have/develop a decisive ability to shift priorities and function effectively in a dynamic fast paced work culture);
Have/develop a clear understanding of the recruitment life-cycle processes;
Have a strong work ethic;
Benefits
At eMAG, we are constantly moving forward and we love what we do. If you are passionate about your job, whether it's offering consultancy to a customer or writing a code line, and you aim high, then you belong with us, the No. 1 IT company to work for in Romania (according to a Biz Magazine study inWe provide you with the best development programs to improve both your soft and job specific skills, but it is you who decides what you want to learn and where you want to go. The possibilities are endless. We know benefits are important, that's why we provide you with a full range of them. And because we like to share, at the beginning of you journey in eMAG we offer you a free course of e-commerce, just to put you up to speed.