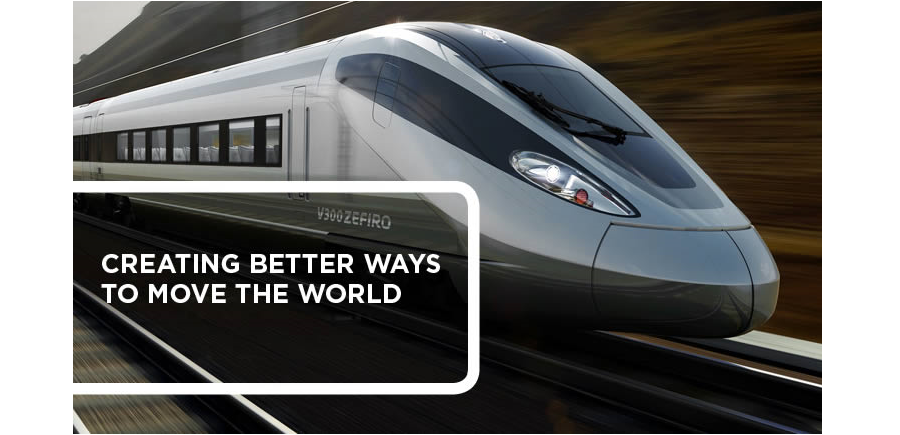 We are Bombardier
Get on board, we can drive you further in your career!
As the world's leading manufacturer of both planes and trains, we have built an extensive and diverse portfolio of winning mobility solutions. Everywhere people travel by land and in the air, a Bombardier product is ready to transport them. From category-defining business, jets and commercial aircraft designed for the challenges of today, to sleek high-speed trains and public transit that is smarter than ever.
Bombardier Transportation is the number one provider of rail solutions in the world. Our business holds the number one global market position in eight of the ten markets we service. Our product portfolio includes a full range of passenger rail vehicles and we manufacture locomotives, bogies, propulsion and rail control solutions, setting new standards in sustainable mobility.
Our Global Procurement Centre in Cluj, Romania is part of the Global Supply Chain/Strategic Procurement department, providing excellent service for the organization across different commodities: Indirect Goods and Services (IGS), Product Related (PR) and Information Systems (IS).
For our Global Procurement Center, based in Cluj-Napoca we are looking for a:
eCatalogue Lead Buyer
Your Role:
You will have to define and implement the eCatalogue strategy for Bombardier Transportation and Aerospace. You will have to manage relationships with eCatalogue suppliers and service providers.
Your Challenges:
Define strategy and implementation roadmap to achieve eCatalog targets and high degree of automation
Align eCatalog strategy with global sourcing strategy
Align strategy with overall objectives of IGS management and Global Category Leads
Review different eCatalog maturity levels of each country and define actions by country and region
Drive the rollout of standard eCatalog solution and define rollout strategy to migrate sites to global solution
Prepare implementation strategy for eCatalogs at Aerospace (analyze supplier base and identify synergies)
Define actions with category experts to increase eCatalog usage for the different categories and regions (. free text ban for selected suppliers and commodities)
Support catalog experts and global category leads on RFQs, tenders and negotiations for eCatalog suppliers
Define timeline and catalog type for new eCatalog and supplier onboarding
Define and track implementation of new ordering channels and functionalities (such as quick quotes, internal catalogs, market place)
Analyze with technical team which premium features and functionalities which can be added to our platform
Assist eCatalogues team members if they have issues
Manage supplier relationship for all eCatalog topics
Nominate new suppliers according to eCatalog strategy
Manage regular calls with eCatalog service provider and procurement solutions team
Manage supplier onboarding of strategic supplier with technical and content team
Ensure vendor setup in ERP System and create Purchase Orders if required for implementation
Escalate issues to suppliers or management
Define top-level management KPIs and present on a monthly basis (e,g, contract compliance, free text conversion)
Define KPIs for each region and commodity
Provide regular status update to IGS and GPC management
Manage regular implementation status calls with regions and GPC eCatalogue team
Measure supplier performance regarding eCatalog KPIs and compliance
Align report requirements with OPMD team to ensure data is correctly captured and data quality is maintained
Define eCatalog processes and responsibilities (RACI) for different ordering channels (such as Hosted eCatalogs, Punchout, Quick Quote)k
Qualifications
Master / Bachelor Degree Business Administration, Supply Chain preferred
Relevant experience required (. directly linked to the requirements of the position/role)
Understanding of common business practices & processes
>3 years commodity or operational procurement expertise (including negotiation experience etc.)
Specialized or cross-functional knowledge / relevant experience required by the position/role
Strong analytical skills, cost reduction mind-set, interested in information technologies and the usage of tools, advanced negotiation skills or commercial skills, strong communication & social skills in English and other language(s), continuous improvement oriented
Why work for us?
The Global Procurement Center in Cluj-Napoca offers an outstanding professional environment with career development opportunities you would expect of a market leading international organisation. We are located in the center of the city and we offer an open, friendly working environment.

Are you interested in starting an exciting career at Bombardier Transportation? If so, submit your application by visiting our Career Site or Facebook page.

Your ideas move people!