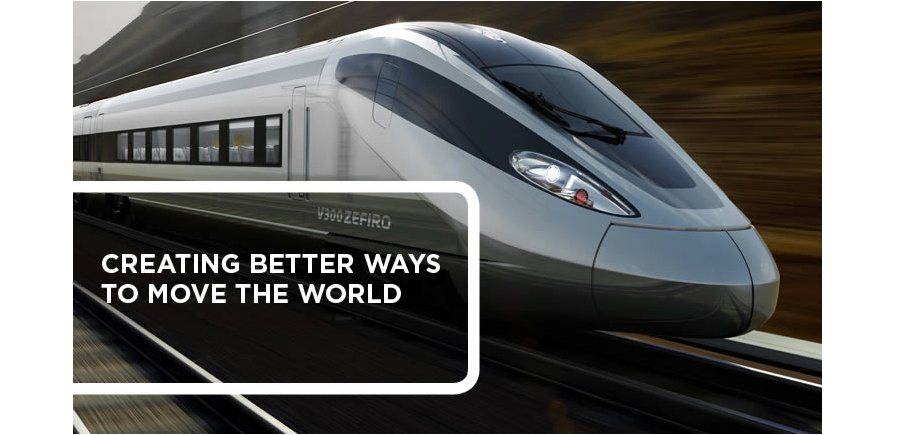 We are Bombardier
Get on board, we can drive you further in your career!

As the world's leading manufacturer of both planes and trains, we have built an extensive and diverse portfolio of winning mobility solutions. Everywhere people travel by land and in the air, a Bombardier product is ready to transport them. From category-defining business, jets and commercial aircraft designed for the challenges of today, to sleek high-speed trains and public transit that is smarter than ever.

Bombardier Transportation is a global engineering company that is shaping the evolution of mobility. We have a rich heritage behind us, but it is our innovative approach that puts us at the forefront of our industry. At the heart of everything are our employees and our suppliers, with whom mobility truly begins.

The Human Resources Operations Centre is fulfilling more thanemployee service requests monthly. We manage all aspects of Bombardier Transportation HR Services, as recruiting the European teams, managing employee records and hiring documents, delivering global mobility services, implementing country training plans, functional global programs and e-learning modules and delivering monthly payroll and bonus reviews.

For our Human Resources Organization based in Cluj-Napoca
we are looking for a Head of Talent Acquisition Services EMEA
nbsp;
Scope of the Role:
The job holder will be responsible to fulfill recruitment requirements in the EMEA region for Bombardier Transportation (BT) with 1200+ hires per annum in technical, professional, administrative and management roles whilst meeting the Talent Management targets for internal promotions and continuously improving cost per hire. This requires operational agility to ensure recruiters have the skills, languages and technical knowledge to support new countries or job types as business needs change throughout the year, and assuring capacity increase and decrease with overall demand.

S/He will manage recruitment requests from managers, handle escalations from recruiters, managers and HRBPs, will continuously monitor and manage the quality of service, workloads and priorities. The Head of Talent Acquisition Services EMEA will lead collaboration with colleagues in Cluj to expedite grading, transfer and contracts and to recommend process improvements reducing time to hire and increasing quality of service.
The Head of Talent Acquisition Services EMEA is responsible for the operationalization of BT Talent Acquisition Strategy and policy decisions from corporate and the BT HR Centre of Expertise.


Responsibilities:
Achieving Business Results:
ccountable for meeting the business requirements for Talent Acquisition and customer satisfaction with services delivered.
Accountable for the smooth delivery of recruitment and HR processes for EMEA countries supported.
Adjust allocation of key tasks based on considerations of business risk, commerciality and urgency.
Act as a first point of escalation for customers and the HR community.
Ensure that the team has the capacity, materials and resources to meet service commitments, ensuring that short term changes are balanced against medium and long term priorities.
Collaborate with colleagues across the HR community to share best practices and continuously improve services.
Responsible for the quality control of the team's operational output and the continual drive for process efficiency.
Take the lead role in handling difficult customers and decision making for complex service requests.

Talent Management
Hire, develop and retain the best talent in the local market.
Manage performance and continuous learning for all members of the recruitment team.
Provide structured knowledge management and skilling programs to enable effective team performance.
Proactively engage in Talent Development for all HR teams in Cluj.
Continually behave as a role model for excellent Customer Service in dealings with all internal and external customers.

Team Member Management
Fully participate in management of the development of the Cluj operations and talent to meet the EMEA business HR needs.
Contribute to the development of Talent Strategy for BT and ensure Cluj operations understand and implement BT policy.
Support / implement continuous improvement activity with Centre of Expertise TA and other work streams.
Personally act as the senior specialist advisor in the Operations team for escalations and issues regarding the recruitment activities.
Engage fully in Centre of Expertise virtual TA team through operations reviews and policy deployment and ensure effective support for new countries/ projects where TA activity is led from the Centre of Expertise.
nbsp;nbsp;
Customer Relationship Management
Develop and execute action plans to continuously improve customer satisfaction levels.
Manage and develop use of the case management tool and Taleo to enhance the customer experience.
Develop and maintain a customer advocacy culture within the team.
Qualifications
Degree level qualification (Master degree preferred) combined with a broad HR background.
5 years' overall HR or people management experience, out of which 2+ years' recruitment experience in a complex international environment and 2+ years' people management experience.
Experience in working on similar level in terms of scope, complexity, partners involved, internationality of projects.
Experience of delivering services in a complex business services environment.
Ability to build strong partnerships and manage stakeholders
Good cross-functional understanding of business processes and responsibilities in large, matrix-based organizations.
Creativity and openness for new solutions with a strong analytical thinking capacity.
Excellent oral and written skills in English are a must, further languages ideally German or French are of advantage.

Why work for us?

The Human Resources Operations Centre in Cluj-Napoca offers an outstanding professional environment with the career development opportunities you would expect of a market leading international organization. We are located in the center of the city and we offer an open and friendly working environment.

Do you recognize yourself in the description? If so, apply now online with your letter of motivation as well as your detailed CV in ;

For more information about our team, projects and products, please visit Our Website