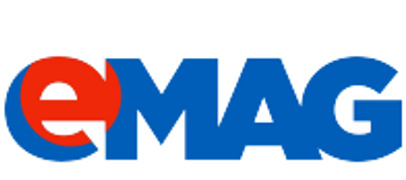 Commissions & Incentives Team Leader
Commissions & Incentivesead
At eMAG, we are constantly moving forward and we love what we do. If you are passionate about your job, whether it's offering consultancy to a customer or writing a code line, and you aim high, then you belong with us, the No. 1 IT company to work for in Romania (according to a Biz Magazine study in 2017).
We provide you with the best development programs to improve both your soft and job specific skills, but it is you who decides what you want to learn and where you want to go. The possibilities are endless.
Responsibilities
Designs and implements new commissions/bonuses schemes according to business' needs (incl. sign-off process, financial impact calculation, communication, post-implementation analysis);
Review and take action for improving the current commissions/bonuses schemes according to company's commercial strategy;
Acquires strong and deep understanding of current commissions/bonuses schemes;
Ensure consistency and business strategy relevance for all commissioning schemes;
Organizes ad-hoc or periodically training sessions for HR teams to support them in order to have a better understanding of the commissions/bonuses plans.
Participates and has input in workshops of HR System's implementation project in order to understand changes generated by the new system for all current processes related to commissions/bonuses. Has input and participate in all project phases that affects commissions/bonuses processes (. testing phase, data migration, reports definition etc.)
Offers post-implementation support to the commissioning team members and to the stakeholders (if case);
Coordinates the periodically computation processes for actuals and accruals (estimation for next month commissions/bonuses);
Find solutions in minimizing the number of errors resulting from computation process and for reducing the time allocated to commissions/bonuses reconciliation at the end of each month;
Understands and keep up to date with company's commercial strategy in order to act as a consultant to HR business partners in shaping the commissions/bonuses schemes;
Has input, together with business' management and finance team, in performing productivity assessments, targets setting process, what if scenarios and related analysis on a periodic or ad-hoc basis;
Finds solutions for increasing the automation of commissions computation processes;
Clarifies and documents all commissions/bonuses processes;
Designs, prepares, analyses and delivers ad-hoc or periodically reports related to commissions/bonuses to HR Business Partners, to company's management and/or other stakeholders;
Has input in company's budget related to payroll cost (commissions/bonuses area);
Advises, offers consultancy and provides the necessary information and materials related to all commissions/bonuses processes/schemes to HR Business Partners, to company's management and/or other stakeholders, as required;
Has input in building the communication plans and messages related to their area of expertise;
Contributes to operational excellence of the department by continuously improving efficiency in their area of work;
Coordinates the Commissioning team for all sales channels within the company;
Participates in departments projects/ activities as assigned by direct manager;
Business Responsibility (customers/staff etc.)
Requirements
Proactive, able to perform in a multitasking and dynamic environment that generates new situations, requiring quick decision making and focus on solutions;
Similar experience of minimum 2 years in Commissioning area/Channel Marketing/Commercial Finance;
Ability to work with different groups and different authority levels;
Very good analytical skills;
See the rationale behind figures;
Good communication and presentation skills;
Very good MS Office skills (advanced Excel level);
Negotiation and influencing skills;
Project management skills.
Benefits
We know benefits are important, that's why we provide you with a full range of them:
• Medical subscriptions;
• A monthly budget you can spend on flexible benefits - meal tickets, travel vouchers, trainings for your development;
• Employee discounts;
• Access to the Bookster library;
• Fruits, juice, water and coffee at the office;
• Other discounts (gym, pizza, car wash and others).