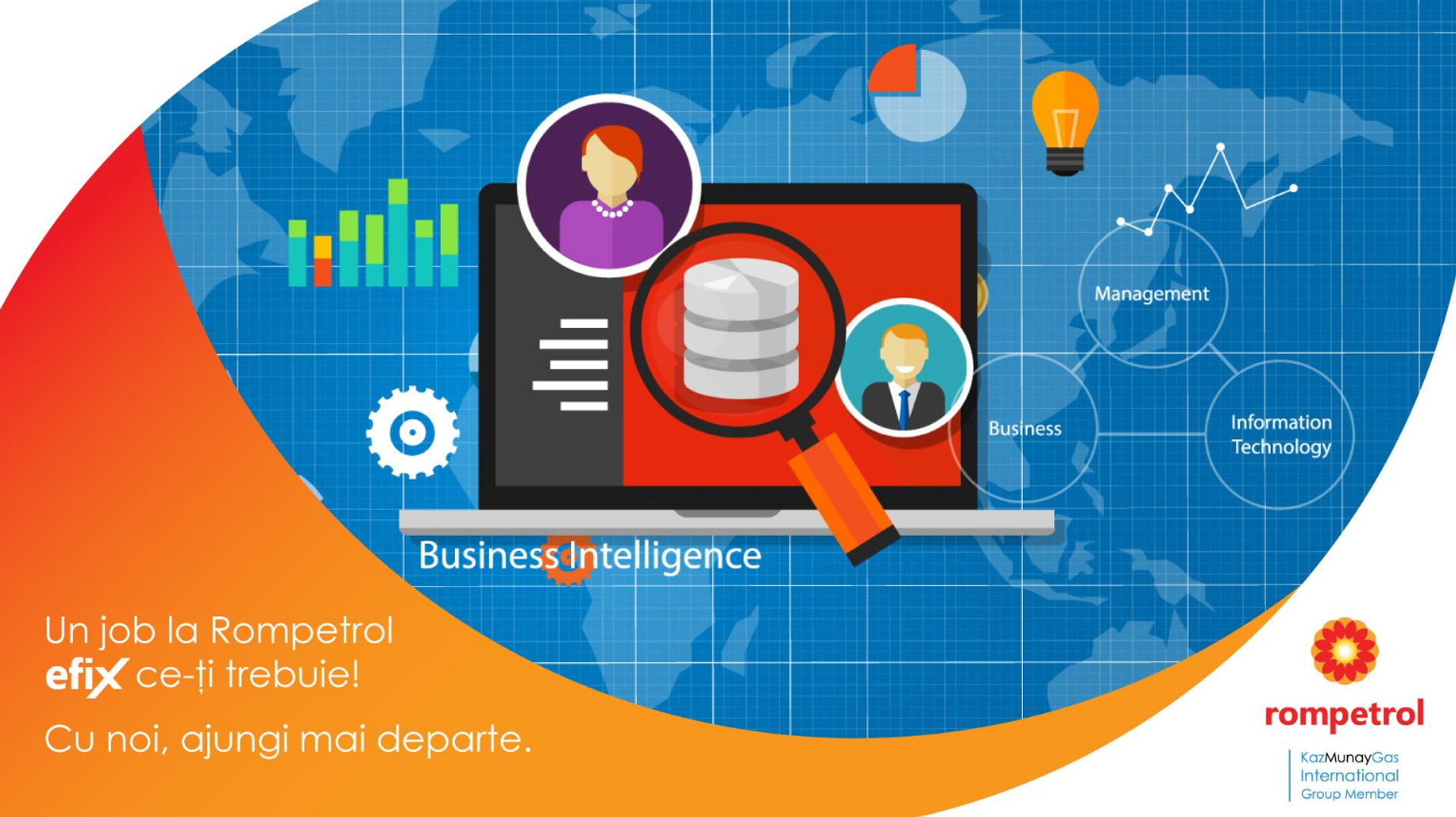 Rompetrol, part of KMG International, is the place where thousands of minds and over 200 specializations spread throughout 11 countries are connecting to each other to create the energy we all need to get further. We believe that through trial and perseverance, true ambition is inspired and success achieved. With this reasoning, we intend to welcome you to our Rompetrol family and help you reach your full potential.
So, are you ready to fuel your career, in a diverse and fulfilling environment?
We are currently looking for a team-oriented Business Analytics Technical Expert in Bucharest.
Temporary contract - maternity cover.
Job purpose:
Business Analytics Technical Expert's role is to strategically design and implement BI software and systems, including integration with databases and data warehouses. This includes selecting, blueprinting, gathering is also responsible for ensuring high levels of BI availability through support functions and in-depth testing requirements, designing, and rolling out BI solutions to end-users.
Activities going to help you shine:
Troubleshoot BI tools, systems, and software; performance-tuned these applications as necessary.
Troubleshoot Business Planning and Consolidation tools, systems, and software; performance-tuned these applications as necessary.
Data Warehouse maintenance (back-end)
Maintain and enhance data structure (. develop new data marts)
Master data management & metadata management
Periodic performance review & optimization
Report & Visualization maintenance (front-end)
Adapt existing reports to new business challenges
Develop new reports & visualizations
Administer reporting tools
User access management
Develop and manage ETL processes
Design, code, test, and document all new or modified BI systems, applications, and programs.
Develop the semantic layer, metadata, reports, and report definitions.
Develop graphs and portal interfaces.
Design of databases and data warehouses to ensure interoperability with BI solutions.
Analyze user requirements and, based on findings, design functional specifications for BI front-end applications.
Produce ETL design guidelines to ensure a manageable ETL infrastructure for the BI system.
Work with project managers to ensure that data entry, retrieval, change and delete functions meet business requirements for project completion.
Conduct job duties and responsibilities according to the organization's business systems development methodology and/ or its Systems Development Life Cycle (SDLC) methodology.
Design and deliver end-user training and training materials, provide technical support as necessary.
The fuel needed to go further with us:
University degree in the field of computer science, information systems, or computer engineering.
Minimum 1-year experience of direct work experience within a complex BI environment: maintenance, support, and/or development
Database knowledge and expertise gained through demonstrably successful working experience with industry-strength database solutions such as Oracle, Microsoft-SQL based systems.
Expert knowledge of:
Data loading
Programming (SQL, ABAP)
BO reporting
Data modeling
Strong ability to analyze user requirements.
Experience in business planning
Strong willingness to learn and assimilate new solutions and technology features
Strong understanding of relational database structures, theories, principles, and practices.
Experience with data processing flowcharting techniques.
OLAP Modelling exposure.
Strong understanding of the organization's goals and objectives.
Fluency in English.
Strong analytical, conceptual, and problem-solving abilities.
Able to prioritize and execute tasks in a high-pressure positive "can-do" attitude to work well on a team as well as independently
Appreciated technology background:
Knowledge of SAP Technology components like SAP BW and BW4H, Business Objects, SAP Hana, SAP Data Services, SAP BPC, other SAP ETL tools
Fully aware of other SAP BI tools
Knowledge of SAP BPC 11
Knowledge of Power BI (DAX formulas) is a plus
Knowledge of C# is a plus
Knowledge of Congos Controller/ Congos BI is a plus.
You will be supplied with:
Supportive and professional teams and environment;
Learning opportunities and training programs;
Medical package;
Meal vouchers;
Flexible working program;
Work from home benefit;
Short working schedule on Friday;
Benefits package and discounts (sports, medical, banks, culture, fashion, tourism, restaurants etc);

What you need to do now:
If you are interested in this role, go to "apply now" to send an updated copy of your resume.
If this job is not exactly right for you, but you are looking for a new position, please contact us for a confidential discussion about your career.

Fuel your career and start a new destination with us!
#AjungiMaiDeparteCuNoi!