Join our freelance specialist community and work flexibly
BestJobs Grow is the all-in-one place for your consultancy needs. Reach more clients and increase your income by sharing your knowledge or supporting customers in one-to-one video meetings.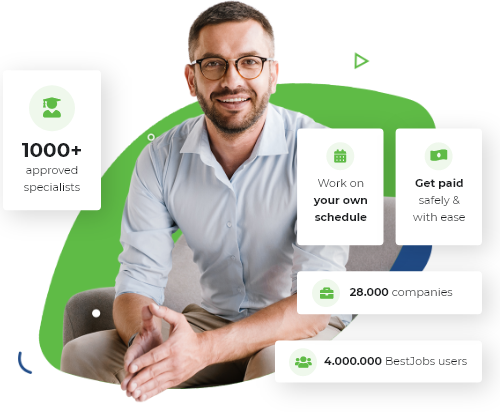 Why work with us?
Grow your portfolio
Reach our community of 4.000.000 candidates and 60.000 employers for project or hour-based work.
Control your schedule
Set your own schedule and choose your projects, so you can manage more customers and personal priorities.
Managed in one place
All-in-one platform to manage your schedule, customers, exchange messages & resources and get paid.
Get paid with ease
Payments are handled by BestJobs, so you get paid on time, every time and 100% worry-free.
Freelancing areas
Coaching
Psychotherapy
Business & Management
Sales
Marketing
IT & Software
Financial & Accounting
Human Resources
Legal
What specialists say
"Straight-forward platform, easy to use. Until now I've met beautiful people from Avocado team, that share a common dream - being in service of humanity."
Grow coach
"I highly recommend Avocado to all professional coaches who want to dedicate their time to coaching sessions, and less to self-marketing. The platform is easy to use, has all the necessary facilities, and communicating with their team is a pleasure, always being available and patient to help you deliver quality services."
Alexandra Ciausescu, Coach
"Avocado was the main platform where I worked as a coach in 2020. It was relaxing to do what I love, coaching, knowing there is a team dealing with all the administrative issues. They evolved and integrated my feedback, which makes me count on our collaboration, now and in the future."
Alina Marin, ACC