Company details
We, CEPROCS™ Group are a Central European Procurement Consulting Service Company. Focused on procurement services, we are a fully integrated Business Process Outsourcer.
Our employees are our largest and most important asset and value great ideas that gives us a strategic advantage and further opportunities. We aim at creating a safe familiar environment with a 100% support on work-life balance.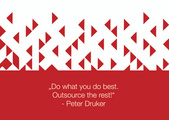 This employer does not have any available jobs at the moment.