Software Developer Manufacturing TSR
Karrierestufe
Mittlere Stufe (2-5 Jahre)
Gesprochene Sprachen
Englisch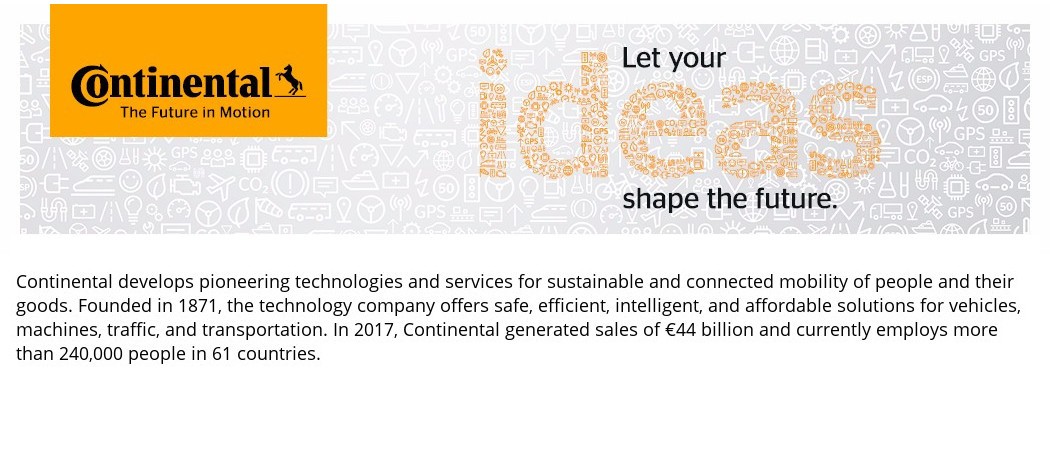 With sales of €39. 2 billion in, Continental is among the leading automotive suppliers worldwide and currently employs more than 215k employees in 55 countries. The Automotive Group with its three divisions Chassis & Safety (sales of approx. € billion in, roughly 40k employees), Powertrain (sales of approx. €7. 1 billion in, roughly 35. 4k employees) and Interior (sales of approx. €8. 2 billion in, roughly 40. 5k employees) achieved sales of approximately €23. 7 billion in 2015. The Automotive Group is present in more than 170 locations worldwide. As a partner to the automotive and commercial vehicle industry, it develops and produces innovative products and systems for a modern automotive future in which cars provide individual mobility and driving pleasure consistent with driving safety, environmental responsibility, and cost-efficiency.
Job Description:
* Development of Software Tools which will be used in Production environment using a wide range of Programming;
* Implementation of traceability system used in production and additional Software tools;
* Responsible to maintain SW in order to reach the quality targets in his processes according to released procedures;
* Work together with the Industrial Engineering team in order to assure the development and continuous improvement of production Software tools;
* Keeps contact with internal SW developers in order to ensure the best functionality and high availability of the software after any update;
* Implements locally the global/central CEP standards;
* Support the implementation of new products;
* A mentor will support you to stepwise take over own responsibility after an initial training phase which will familiarize you with our products, tools, processes and organization. Offering training and consulting to future integrators or developers upon request; he is validating these changes when requested.
Required Programming knowledge :
* OOP Visual;
* C++;
* C# ;
* WPF ;
* ;
* SQL and good know how about Data Bases.
Tools environment:
* Microsoft Visual Studio;
* Microsoft SQL;
* ORACLE DB.
Additional skills :
* Self determination and capability to work independently on a task;
* Flexibility;
* Creativity;
* Advanced English knowledge;
* Interested in team work;
* Proactive and adaptable to a multinational environment;
* Technical University studies;
* Knowledge of production processes in electronics manufacturing;
* Ability to solve problems and work with deadlines.
What we offer:
* Integration Program in a professional, young & dynamic team;
* Competitive Salaries (based on performance) & Benefits Health & Wellness (Private Health and Dental Insurance, Sport activities etc.);
* Professional Development Opportunities (in both Technical and Leadership Area);
* Stability International Work Environment & Travelling Opportunities;
* Relocation Package for non-Timisoara Residents.
Ready to drive with Continental? Take the first step and fill in the online application.