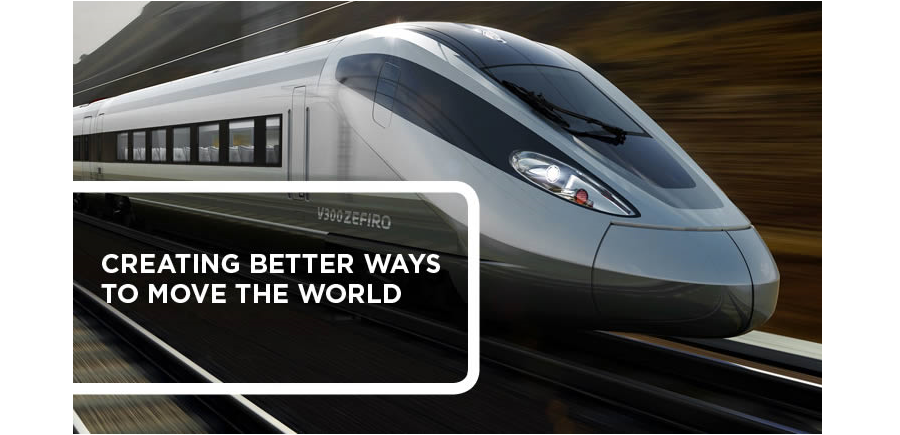 As the world's leading manufacturer of both planes and trains, we have built an extensive and diverse portfolio of winning mobility solutions. Everywhere people travel by land and in the air, a Bombardier product is ready to transport them. From category-defining business, jets and commercial aircraft designed for the challenges of today, to sleek high-speed trains and public transit that is smarter than ever.
Bombardier Transportation is a global leader in rail technology, offering the broadest portfolio in the industry. We cover the full spectrum of rail solutions, ranging from trains to sub-systems and signaling, and provide complete transport systems, e-mobility technology and maintenance services. As an innovation driver we continuously break new ground in sustainable mobility, and our integrated solutions create substantial benefits for operators, passengers and the environment. And, headquartered in Berlin, Germany, we employ aroundpeople, with products and services operating in over 60 countries.
Bombardier Aerospace designs, manufactures and supports innovative aviation products for the business, commercial, specialized and amphibious aircraft markets. We have the most comprehensive aircraft portfolio and we hold the number one position in business and regional aircraft. Our high-performance aircraft and services set the standard of excellence in several markets.
The Global Procurement Center (GPC) is part of the Global Supply Chain/ Strategic Procurement department, providing excellent service for the organization across different commodities: Indirect Goods and Services (IGS), Product Related (PR) and Business Intelligence. The team of almost 300 colleagues is working closely with overusers, throughout more than 20 countries where Bombardier operates.
For our Global Procurement Center, based in Cluj-Napoca we are looking for a:
Procurement Team Leader with German
You will have to ensure the effective performance for Product Related Procurement functions within the region or countries assigned and the achievement of service delivery requirements. Also, you will have to manage individual performance and build teamwork within your team.
Your challenges:
Team Leadership and Performance Management
Manage individual performance and people development through annual performance review process;
Provide guidance to the team based on management direction;
Promotes Teamwork within and amongst teams;
Assesses staff training needs and encourages compliance of training requirement for each level as part of the employee development program;
Ensure that the team has all the hours, materials, accesses and resources in place on a day to day basis to meet all its service commitments;
Operational Performance Management
Accountable for the smooth delivery of local and global administration and procurement processes, in line with agreed Service Level Agreements (SLAs);
Escalate issues which cannot be resolved by the team to the Head of Operations;
Manages external and internal audits and ensures implementation of recommended actions based on audit results;
Lead the effectiveness of the processes trough identification of areas for continuous improvement, providing input and information to achieve problem resolution;
Management of Business Partner Relationship
Exercise business partnership by supporting decision making through adding value to the business by proactive delivery of information and knowledge;
Act as Business Partner to Head of PR Region and align among other Team Leads assigned to region/countries;
Participant in regular calls with business partners;
Strategic/change Leadership
Manage compliance with global PR processes, develop and enhance global processes;
Prioritize work in alignment with business goals, strategies and policies;
Ensures buddy system and succession plan are in place in the region;
Processes, Tools, Projects
Drive operational and strategic excellence methods;
Deliver operational and process improvements through lean approach and techniques;
Monitor supplier KPI's;
Qualifications
Business Degree or similar complemented by a demonstrated track record;
Excellent oral and written skills in English and German are a must;
3 - 5 years' overall experience, out of which 2+ years' people management experience in a complex international environment;
Advanced level in MS Office (Word, Excel, PowerPoint), Experience with ERP Systems;
Ability to build strong partnerships and manage stakeholders;
Creativity and openness for new solutions with a strong analytical thinking capacity.
About us
The Global Procurement Center in Cluj-Napoca offers an outstanding professional environment with career development opportunities you would expect of a market leading international organization. We are located in the center of the city and we offer an open, friendly working environment.
Are you interested in starting an exciting career at Bombardier Transportation? If so, submit your application
Your ideas move people!